My first VW, 1977 Rabbit, German.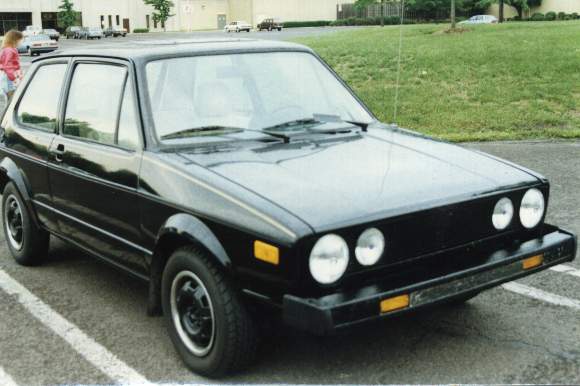 It was Agate Brown when I had it, but this picture was taken after I gave it to my brother Dirk shortly after he got his driver's license. He had it repainted black. I bought this car in December of 1982 with 69,000 miles on it. My brother got it in '86 with about 135,000 and got rid of it with about 170,000. Major problems: None. Minor problems: A/C compressor literally fell out of the car, one front spring broke, rust. Modifications: KYB struts all around, GMP front swaybar, 175/70 tires instead of the 155/80's it came with, Kamei fog light grill, Cibie H4 headlights Kamei rear spoiler.
My 1984 GTI, built in Westmoreland PA.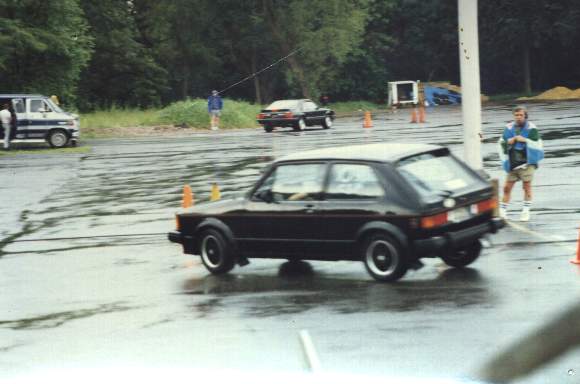 I bought this car in 1986. I got it cheap because it had high miles (55,000) for a two year old car and it was black and had no air conditioning. This was my daily driver for almost 8 years. It also served double-duty as my "Sunday Entertainment". Major problems: SMS. Minor problems: Nothing noteworthy. This car was super easy to work on because it didn't have A/C or power steering. Mods: Lots of suspension work, I tried many combinations of things in the front before I was really satisfied with the compromise between autocross performance and streetability. Quaife differential. N-grind cam. Neuspeed throttle body, ported intake, dual-outlet exhaust manifold with long downpipe (no CAT). 13" wheels for snows, 14" wheels for the street, 15" wheels for autocross. Carello H4 headlights. I sold this car in 1994 with 186,000 miles on it and as of the last report (summer 1997) it was still going strong with over 250,000 on it.
My 1989 GTI-16V, Hecho en Mexico.
[still looking for a photo]
Purchased in 1994 with 77,000 miles on it. I wanted a newer car mostly because I was commuting from Lansdale, PA to Trenton, NJ every day and I didn't want to go through another summer in a black car with no A/C. The 16V had A/C and was much quieter and faster on the highway, but in cut-and thrust city driving, or an autocross, it was actually slower than the '84. Major Problems: none. Minor Problems: electrical connectors, particularly the ones related to the knock sensor system were subject to corrosion and needed repeated cleaning. Mods: None. Traded it for a GTI-VR6 in 1997 when it had 143,000 miles on it.