Ross-Tech 2010 Tour of the Southeast
It had been too long since we did a real ride. What's a real ride? One where you take a big dose of Fukitol and forget about your normal daily life for a while; where you see things you haven't seen before, and maybe ride some fun roads too. The best time window we had was 3 weeks starting April 19th. That's pretty early in the season, so we decided to head south. The furthest you can go south in the continental US is Key West, so we made that our destination, with the idea of seeing as much of the Atlantic and Gulf of Mexico coastline as possible, and we came up with a plan that looked like this: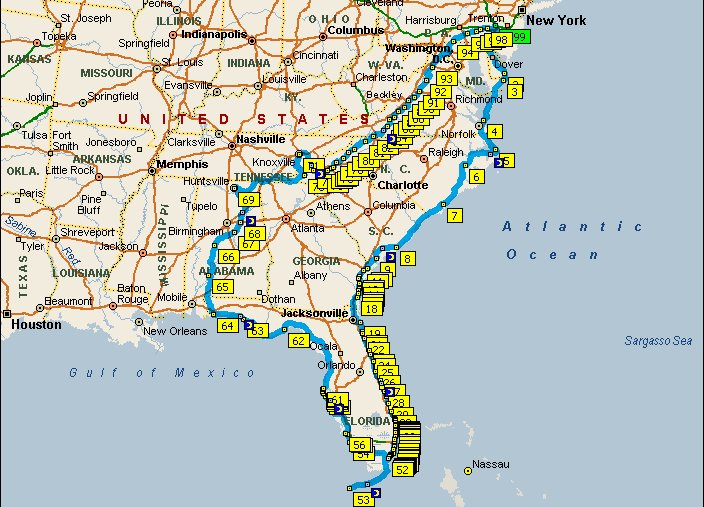 This would be a bit over 4000 miles and and since it consisted almost entirely of secondary roads while avoiding freeways as much as possible, I expected it to take about 2 weeks. We spent the weekend prepping the bikes, packing, and making sure we had all the necessary tools. Here's Eric, fiddling with the chain on his ZZR: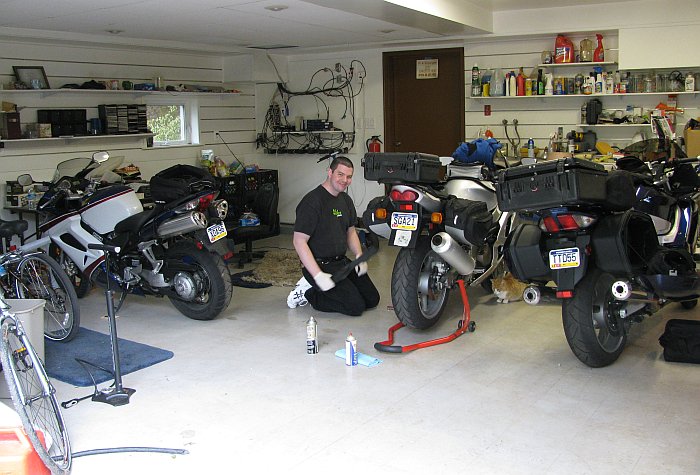 Day 1: Monday 19. April -- Lansdale PA to Virginia Beach, ~ 310 miles
For once, we got started on a trip without any delays, on the actual day we planned, and the weather was great, if just a bit chilly.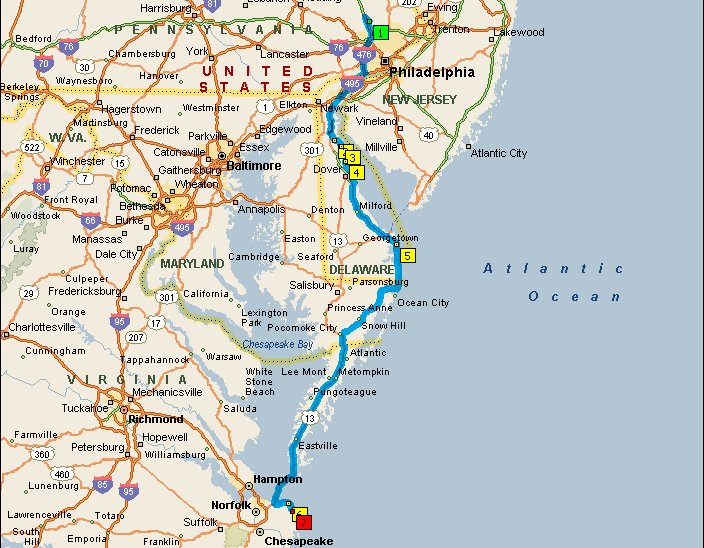 We cheated on the "No Freeways" idea to get out of town; down I476 to I95 to Delaware Route 1, but we hit a scenic and somewhat interesting section of Delaware Rte 9 pretty quickly. From there, onward to Rehoboth Beach and Ocean City Maryland, where we intended to have lunch. Both beach towns were incredibly devoid of activity and traffic. I guess that's what you get on a chilly Monday in the off-season in northern beach towns. As most of the restaurants in Ocean City were closed, we ended up eating at a national chain (Applebee's, I think) once we turned back inland. After lunch, we continued down the DelMarVa peninsula on US 113 and 13 to the Chesapeake Bay Bridge / Tunnel, where sea gulls were happy to pose for pictures: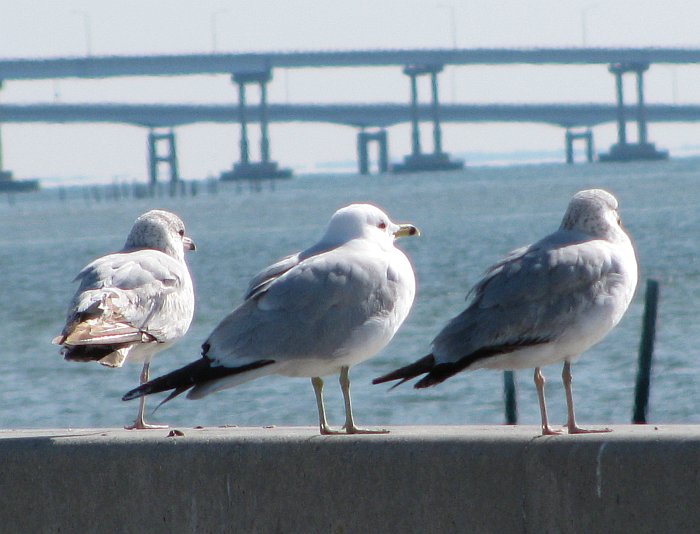 However, the beach there was completely empty: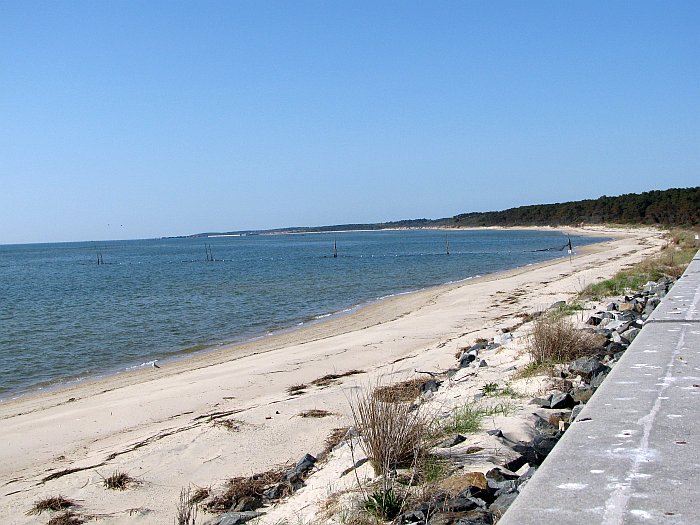 We had intended to eat dinner at the at the last tunnel exit when you're headed south, the one with the fishing pier. Unfortunately, the restaurant was closed for renovations, which was OK because it was a bit early for dinner anyway. The fishing pier was also emptier than I've ever seen it: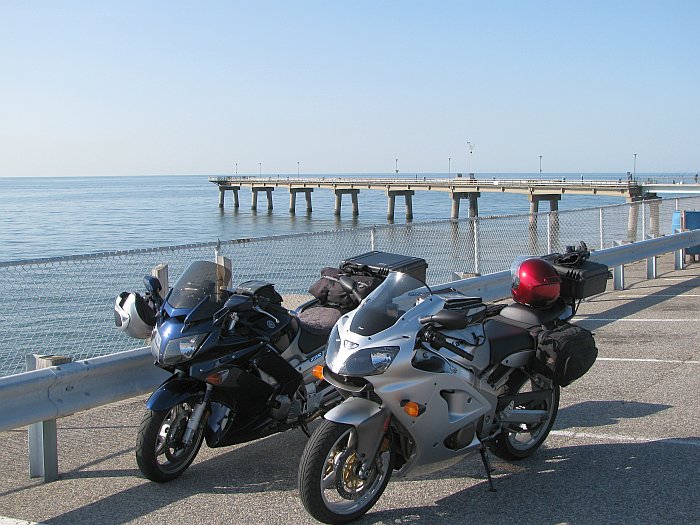 However, here I did get a reward for having applied a coat of wax to my bike before we left; I'm not big on cosmetics, so that isn't something I do often: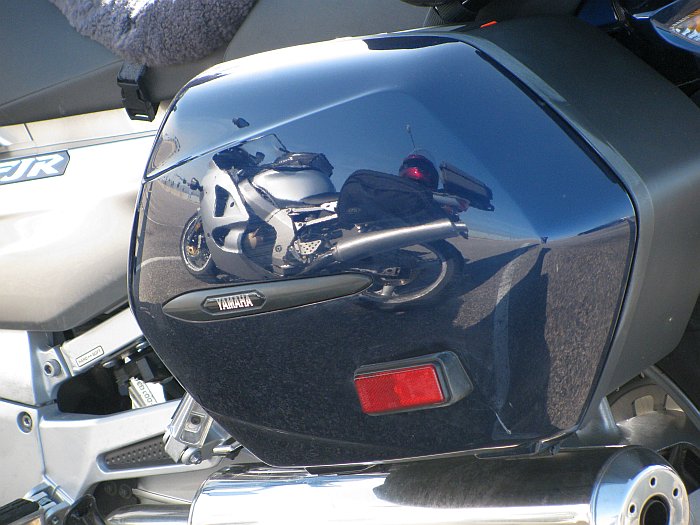 So we rode on to Virgina beach, which was also rather quiet, but not as completely dead as the beach towns further north. We stayed at the Econolodge on the Ocean, an inexpensive older little place which gets good reviews. It's not fancy, but all the rooms are ocean-front, which one would normally have to pay through the nose for. Here's a few pictures of Virginia Beach: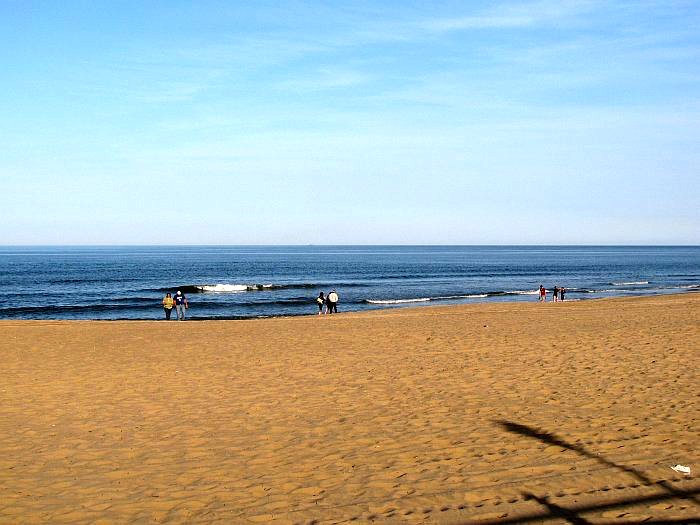 Their "Boardwalk" is actually concrete, which I must admit is quite practical: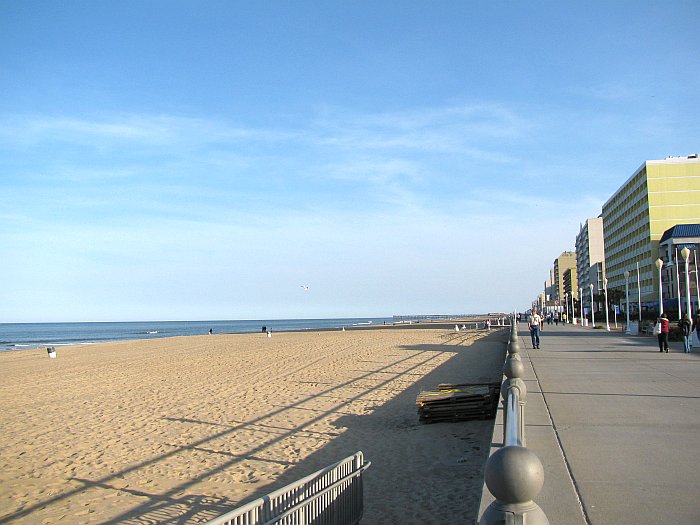 And they seem to have a dislike for foul language: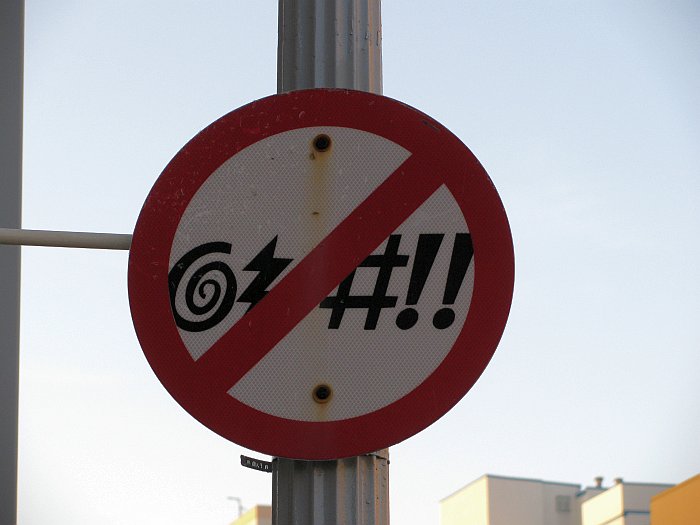 Day 2: Tuesday 20. April -- Virginia Beach to Wilmington NC, ~340 miles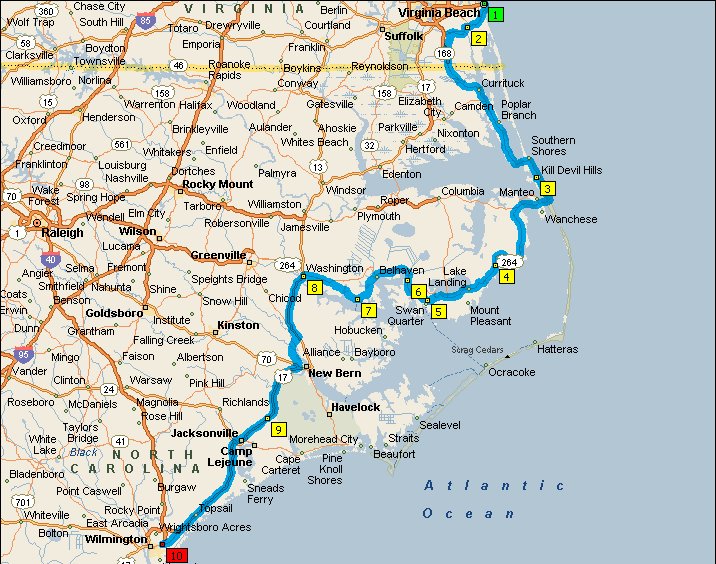 We set off that morning with the intention of ending the day in Carolina Beach or Kure Beach, but it was not to be. To start with, we spent too much time at the Wright Brothers National Memorial, near Kitty Hawk: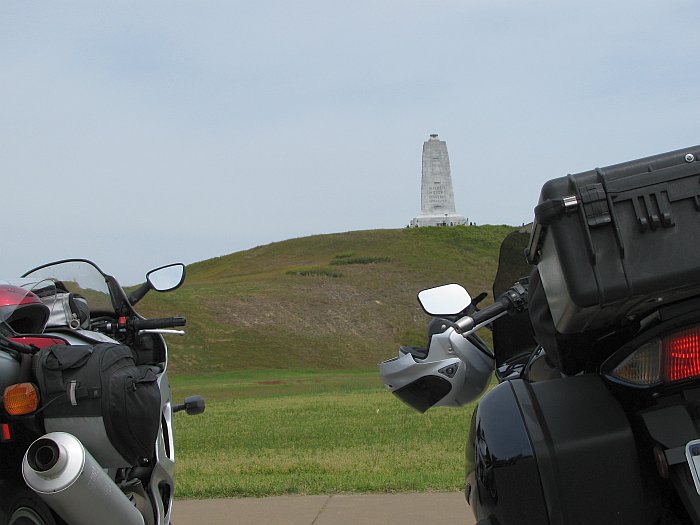 Here's Eric in front of a metal "statue" of the Wright Flier: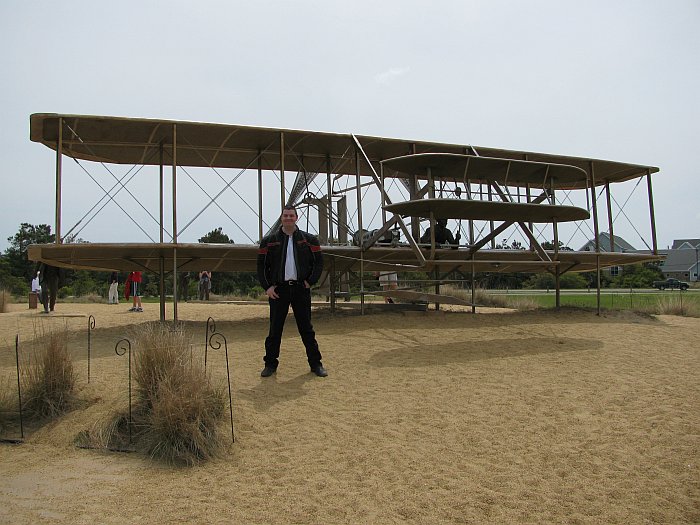 And inside one of the buildings, the have a somewhat functional reproduction, which flew with rather limited success on the Centinnial in 2003: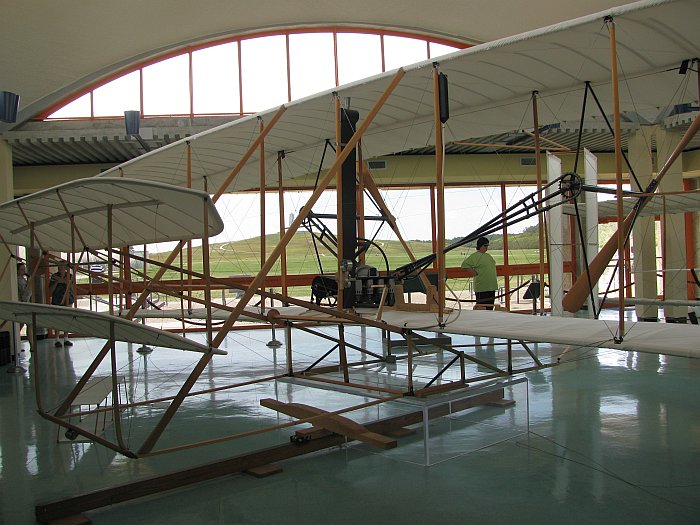 This place really drives home just how much technology has changed the world within a few generations.

After the Wright Memorial, we were getting hungry for lunch and found a Mexican restaurant just before we had to turn back onto the mainland. Once back on the mainland, we turned south on US 264. The section between US 64 and Engelhard might be described as the eastern version of America's loneliest highway; two lanes with arrow-straight sections several miles long and zero traffic. Our motors got Italian Tune-Ups there. My FJR's motor really liked this; the computer was showing average fuel mileage in the low 40s up until that point, and was consistently in the high 40s, sometimes hitting 50 after this. Once past Englehard, there is slightly more traffic, and and the scenery gets better as well. Unfortunately, there is also police presence. We were no longer doing throw-me-in jail speeds, in fact, we were following a local guy in a pickup truck, but the cop coming the other way turned around and pulled us over (while ignoring the pickup). The posted limit was 55, he claims to have gotten me at 72, and Eric at 64. I didn't ask him how fast the pickup in front of me was going. He wrote me a ticket for 70 mph, but Eric only got a warning. I suppose Eric (who was following me) had more time to react. Fine: $30. Court Costs: $130. Cashing checks for the court must be nice work if you can get it, I suppose. A few days later, Linda called me and asked what trouble I had gotten into in North Carolina, since several lawyers had sent letters offering to represent me in court -- LOL.

Not many miles further, our Garmin Zumos decided we should take the Huddles Cut Ferry, despite the options being set to avoid ferries! OK, it was a scenic spot we would have missed otherwise, but the next ferry wasn't due for an hour and a half, so we kept riding.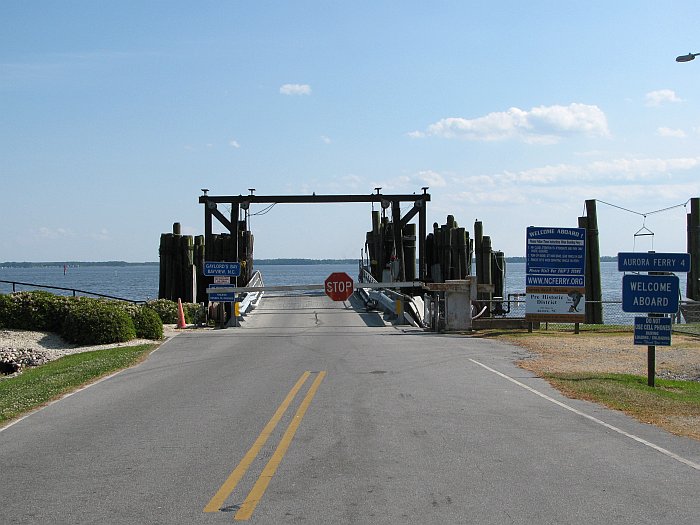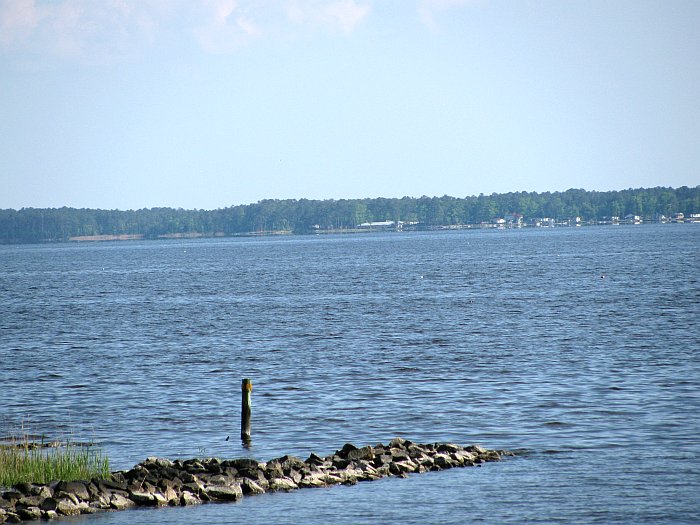 Dusk was upon us as we approached Wilmington, NC, so we decided to stop there for the night instead of proceeding on to Carolina or Kure Beach and then back-tracking the next morning, so we checked into a Sleep Inn for the night.
Day 3: Wednesday 21. April -- Wilmington NC to Savannah GA, ~303 miles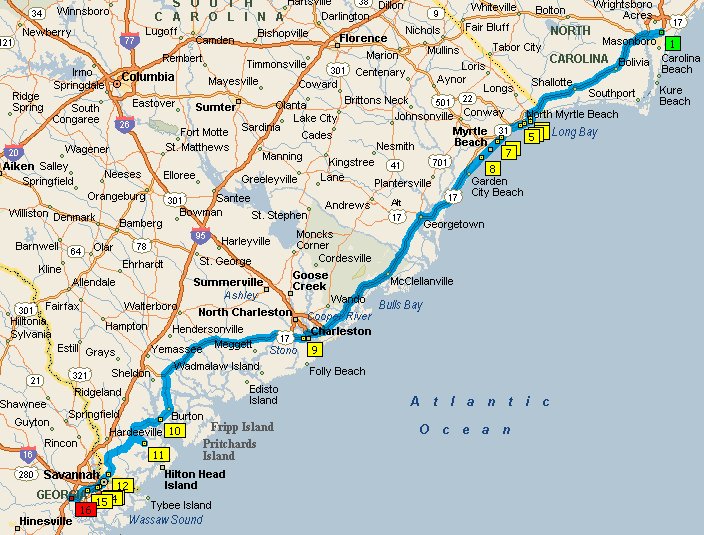 We woke up to rainy skies that morning. The reports seemed to indicate that it would blow over quickly, so we were in no rush to get packed and on the road. By around 10 AM the rain was down to a drizzle so we geared up and headed out. Our optimism regarding the weather was misplaced; the drizzle turned back to rain, sometimes heavy, for the next 60 miles, which took the better part of two hours since we had to go through downtown Wilmington to get across the river. Fortunately, my gear did its job and kept my dry. The foul weather finally broke as we approached North Myrtle Beach and the rest of the day was quite nice. I wasn't impressed with Myrtle Beach, it stuck me as overly commercial in a chintzy way. We did stop at Myrtle Beach State Park which was pretty, and shot the following pictures of the shoreline from the fishing pier, which was actively being used for its intended purpose: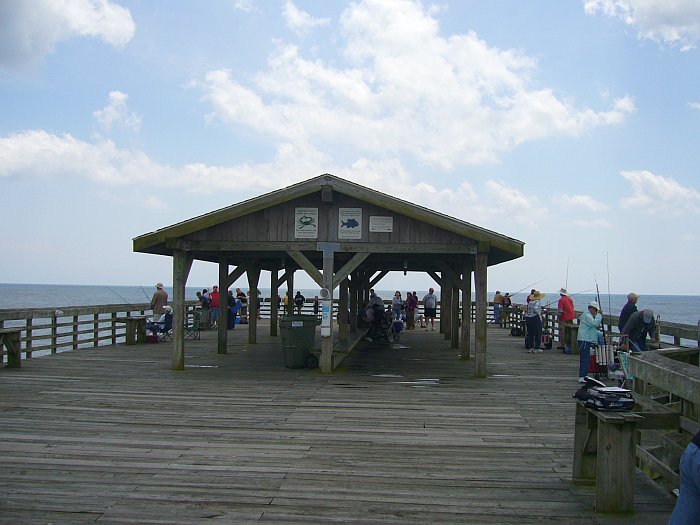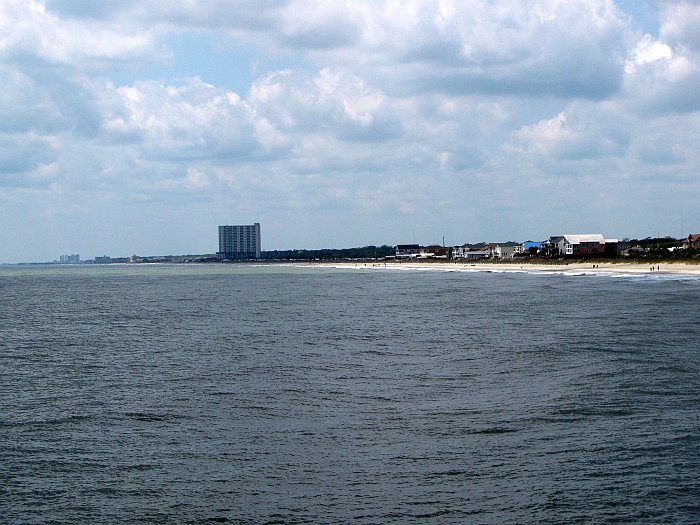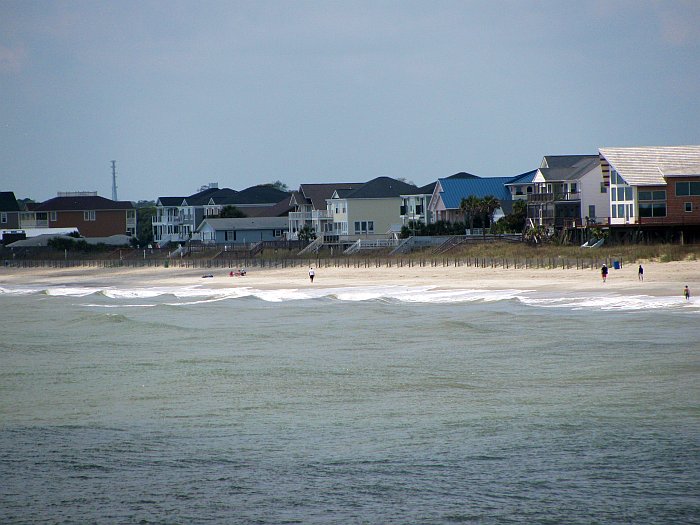 There was also a friendly seagull on the railing who was very willing to pose for pictures: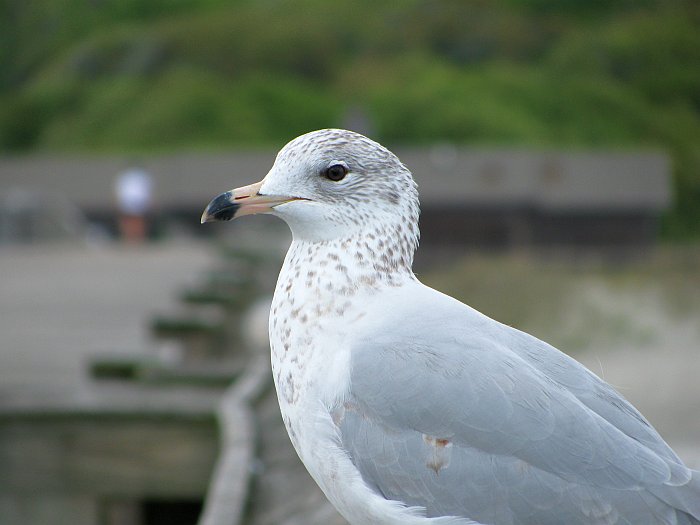 From here, we continued south on US 17. I think we ate lunch at a Dennys, not exactly our favorite place, but it will do in a pinch. The Arthur Ravenal Jr. Bridge crossing the Cooper River at Charleston is beautiful, but we did not find a good place to stop to take photos. We turned off 17 where it heads over to join I95 and continued south on US 21 instead, across Port Royal Island, and then followed SC 170 with a brief diversion east on US 278 for a milk shakes at a Diary Queen (a bit of an afternoon tradition for us). We picked up US 17 again just north of Savannah, and ended the day at a Sleep Inn near exit 94 on I95.
Day 4: Thursday 21. April -- Savannah GA to Titusville FL -- ~315 miles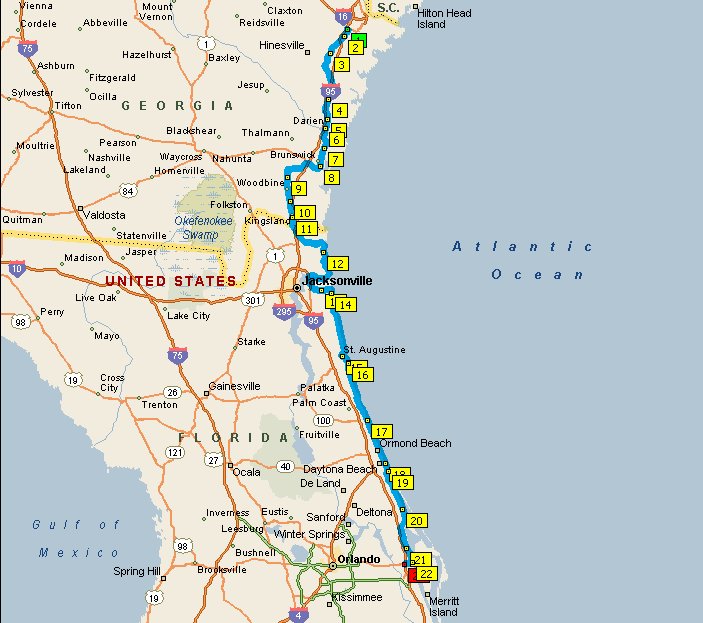 From the Savannah area, we followed US 17 south. If you're not in a hurry, this section is a terrific alternative to I95; there's little traffic and it's relatively scenic. There are many Southern Live Oaks with Spanish Moss: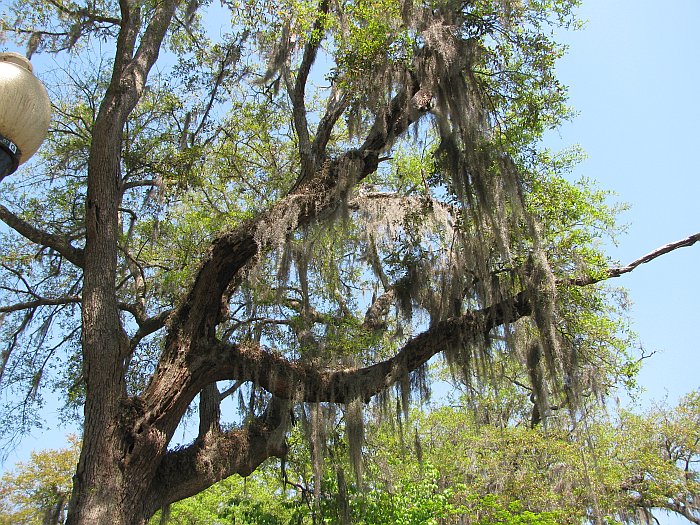 And a few small towns with a distinctly laid-back feel to them: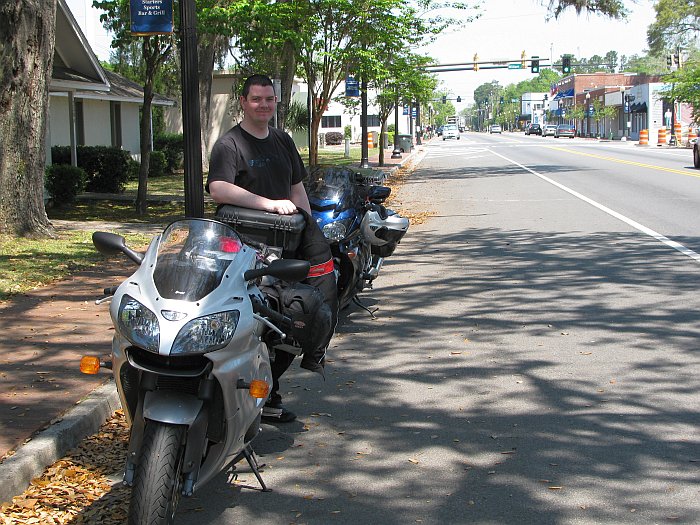 We crossed into Florida still on US 17: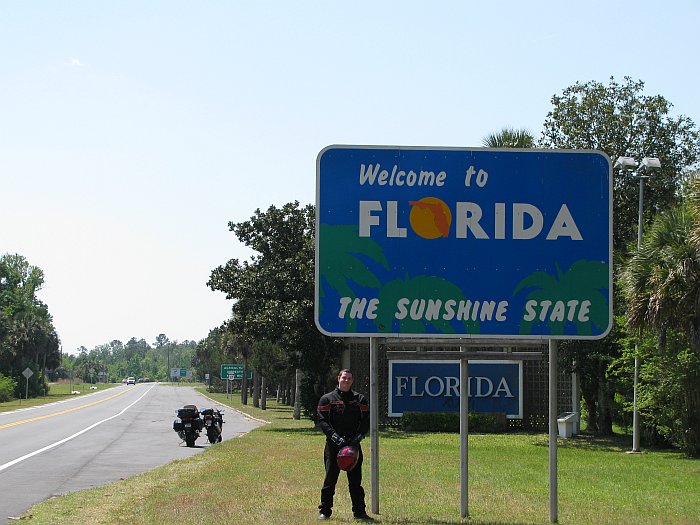 But then turned toward the coast for the northern-most section of Florida's A1A, where we stopped in Little Talbot State Park to take a few pictures: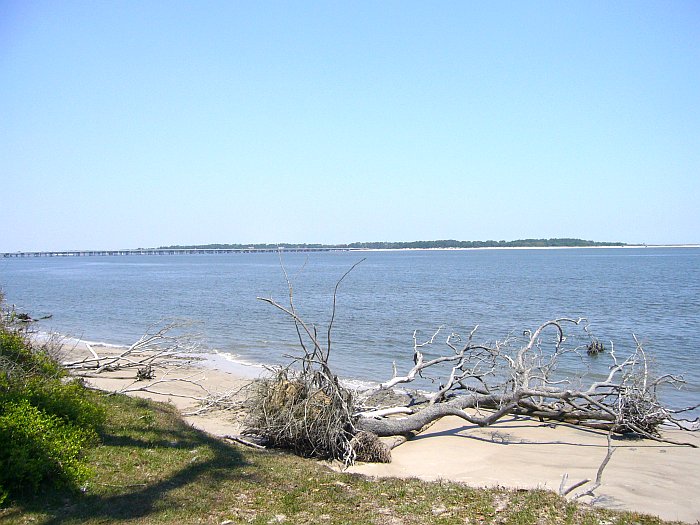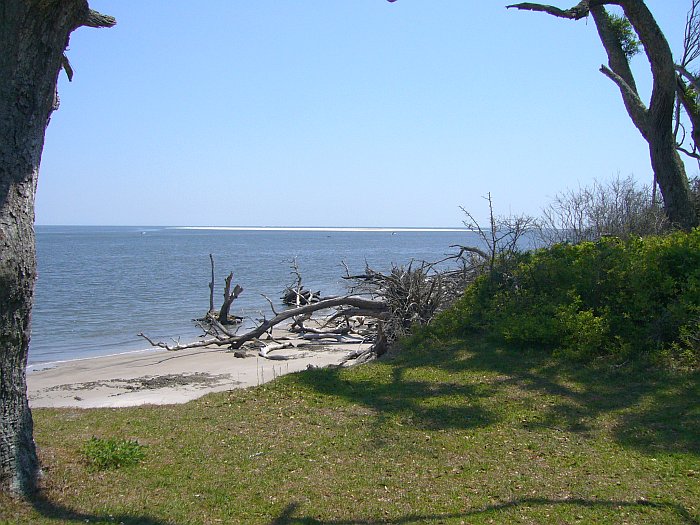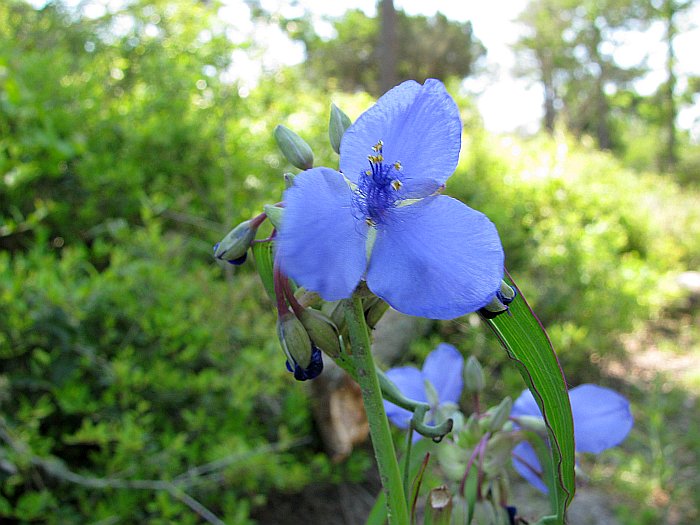 A bit south of there, our Garmins again suggested taking a ferry across the St. Johns River. What part of "Avoid Ferries" does it not understand? Instead, we turned west towards Jacksonville and crossed the Dames Point Bridge before rejoining A1A at Neptune Beach. From there, we followed A1A down the coast, through St. Augustine, all the way past Daytona Beach. To be honest, it was not that great; you don't see the ocean from most of it. An exception was the Flagler Beach area, where we stopped for milk shakes with the beach right across the street: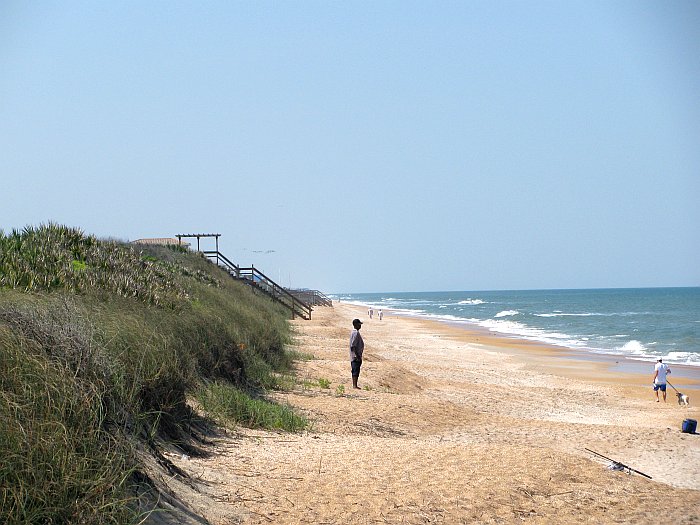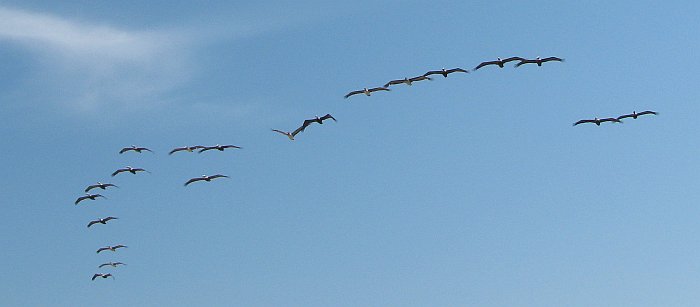 Below Daytona, it's not practical to stay on the barrier islands because there's no way across the Smyrna inlet and A1A dead-ends just above Cape Canaveral, so we headed for Titusville on US 1, which had very little traffic. At Titusville, we were about to turn west on Florida Rte 50 towards a cluster of hotels where it intersects I95, when we spotted groups of people standing on the "beach" looking expectantly at The Cape. My son and I had watched a Shuttle launch from almost this exact spot about 8 years earlier, so I realized that these people were there waiting to see a launch of some sort. As we were on the wrong side of a somewhat divided road, we pulled into a gas station to ask what was being launched and when. I knew there was no Shuttle launch due, and Shuttles launches draw bigger crowds than were present in any case. It turned out to be an Atlas V carrying the X37B, a semi-secret Air Force project. The 15-minute launch window was only 10 minutes away, so we promptly made a U-turn and joined the watchers: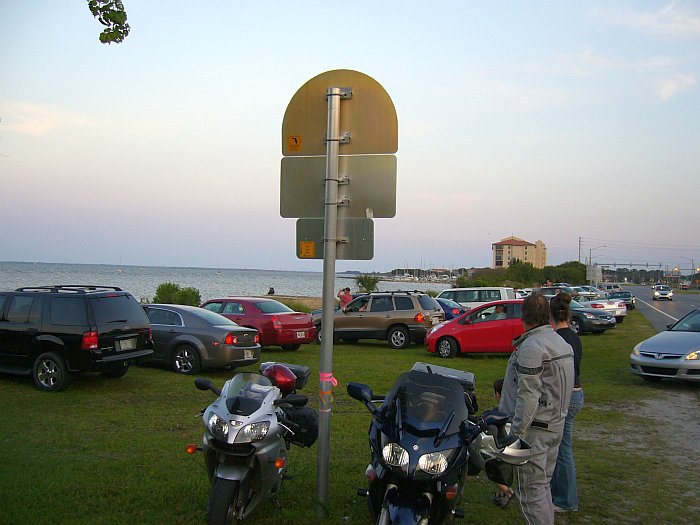 This little boy was more interested in our motorcycles than the impending launch, so he got to sit on mine while we waited: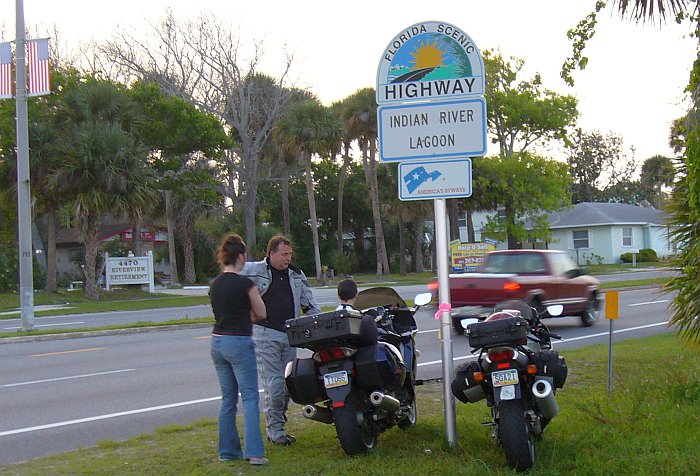 The launch went off right in the middle of the time window and I managed to get the following pictures: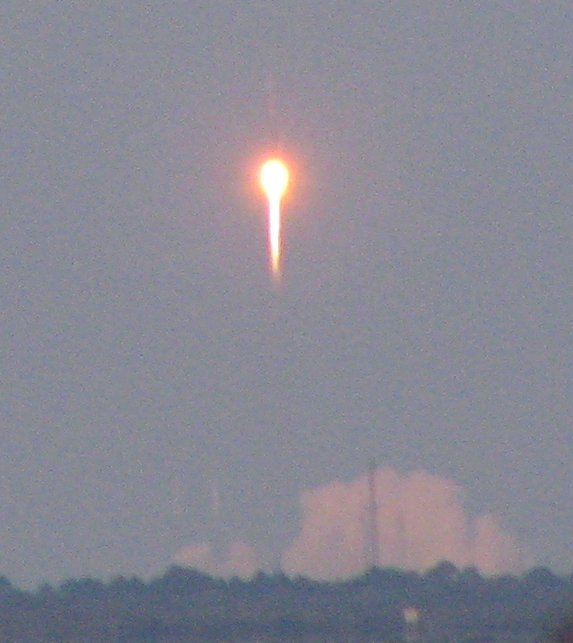 Conditions for watching were almost ideal; the sun had set, but was not yet far below the horizon and lit up the rocket nicely once it had some altitude: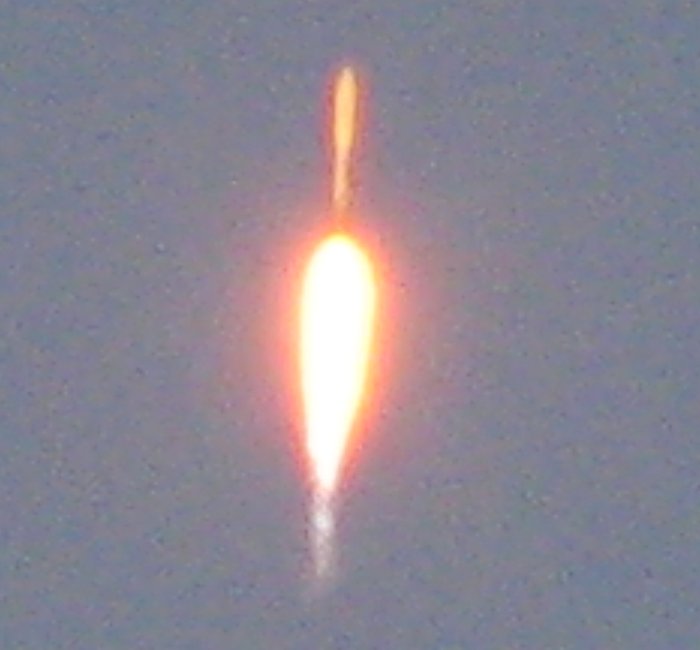 After the launch, we backtracked a couple of miles to the Riverside Inn, which we had spotted on the way down; their rates were quite reasonable for a waterfront hotel, but up close, it seemed rather seedy, and the deal breaker was the lack of internet available. Come on people, it's the 21st century now! But it's probably just as well since the place gets awful reviews. So back to plan A, which was the cluster of hotels at Rte 50 and I95, where we stayed in a Quality Inn. Eric found this very interesting frog on the outside of the window of the hotel's lobby: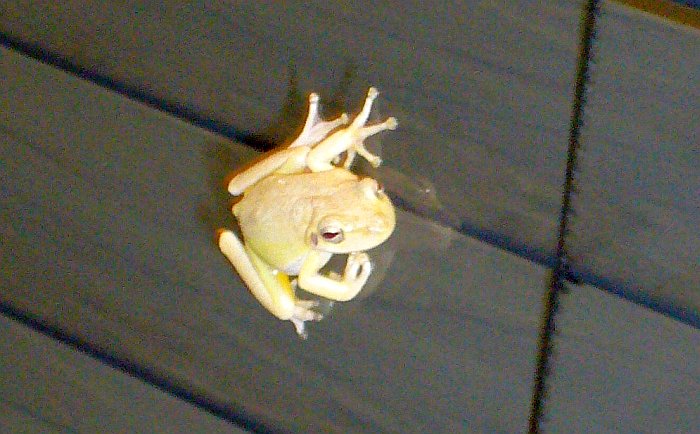 Day 5, Friday 23. April -- Kennedy Space Center Tour, ~30 miles

Although it wasn't a firm part of our plan, after seeing the launch the day before, we decided to stay near Titusville for a day and do the Kennedy Space Center Tour. Although I don't regret taking the day to do this tour, overall I think it was a bit too reminiscent of a Disney-type experience. The following are what I think are the best of the pictures we took, starting with the Vehicle Assembly Building: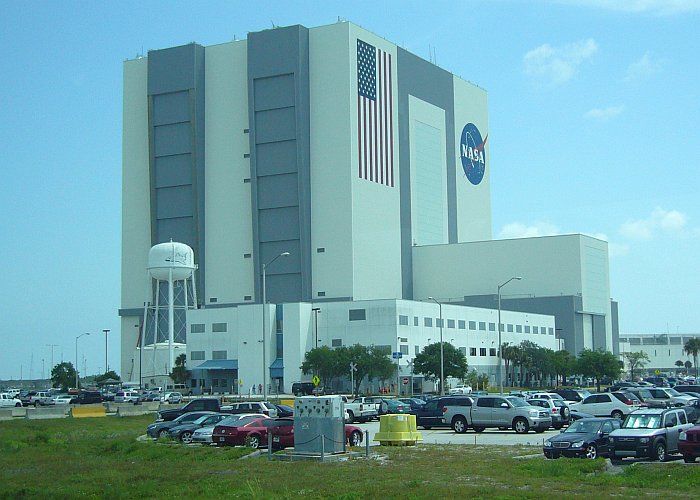 Shuttle Atlantis being prepared for her final mission at Pad 39A: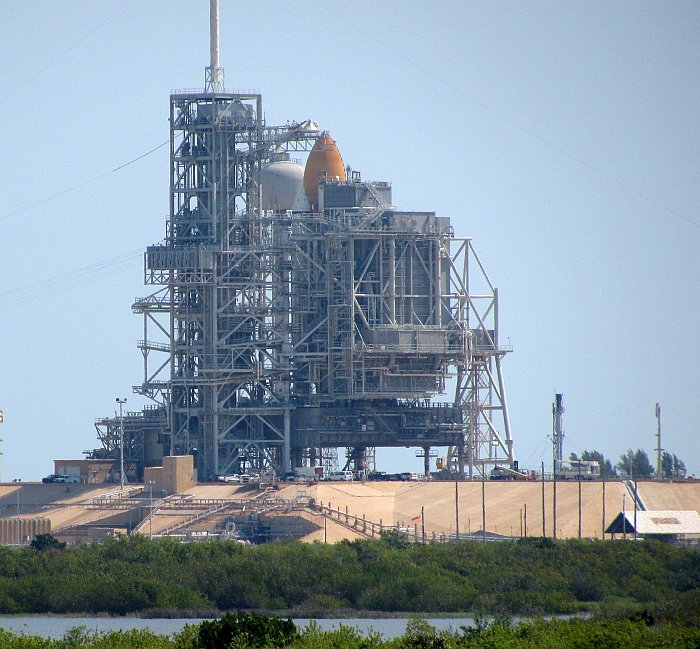 A retired Space Shuttle Main Engine with its control module front and center; we were wondering where the J1962 connector was. ;-)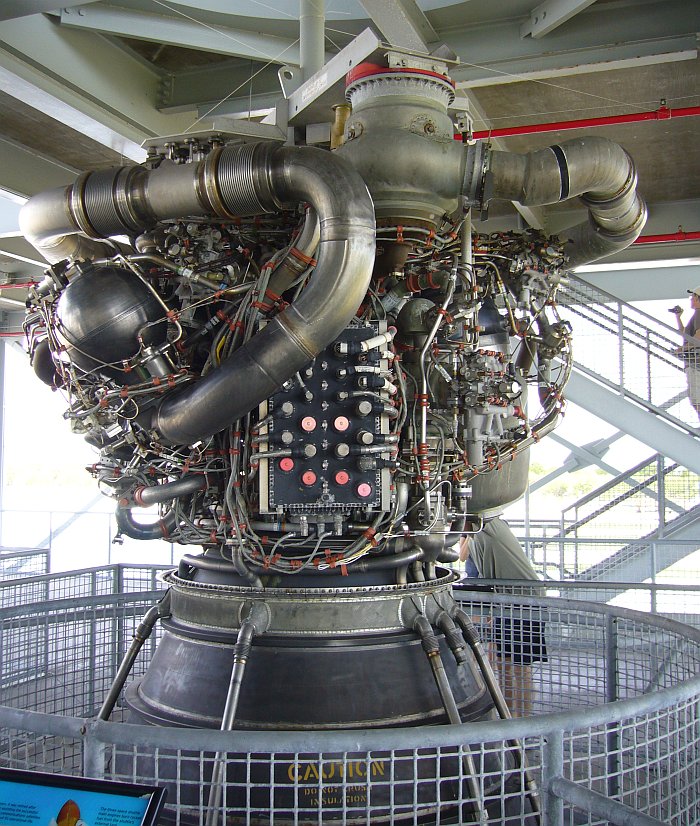 The lower half of the same SSME: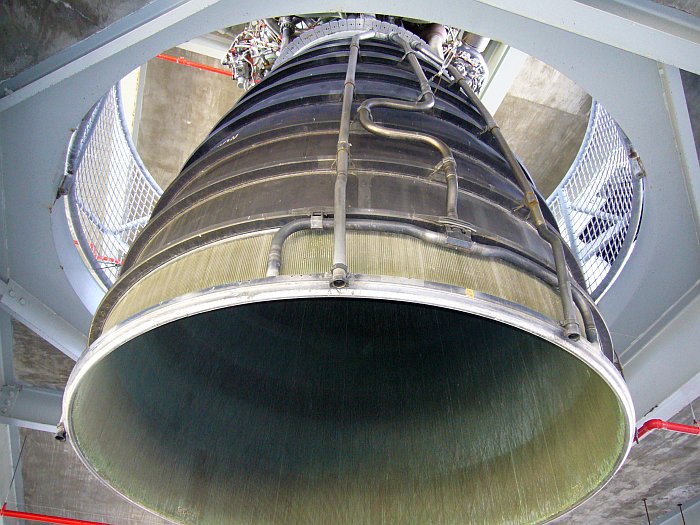 The business end of a Saturn-V first stage.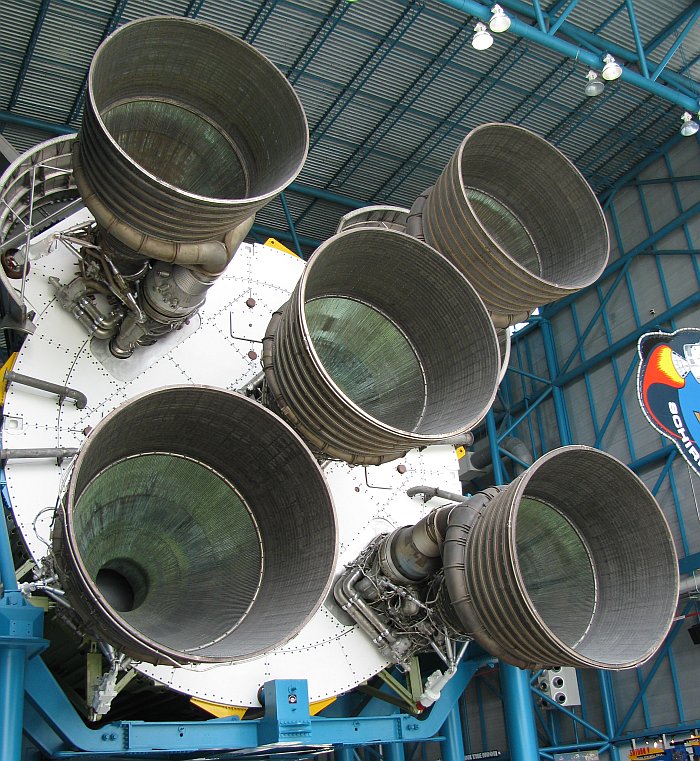 The Rocket Garden: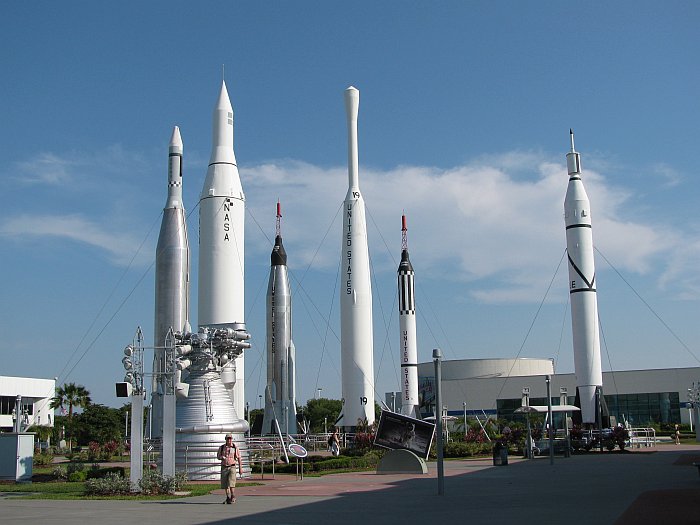 It appears Eric would not have qualified for Project Mercury as he doesn't fit into the capsule very well: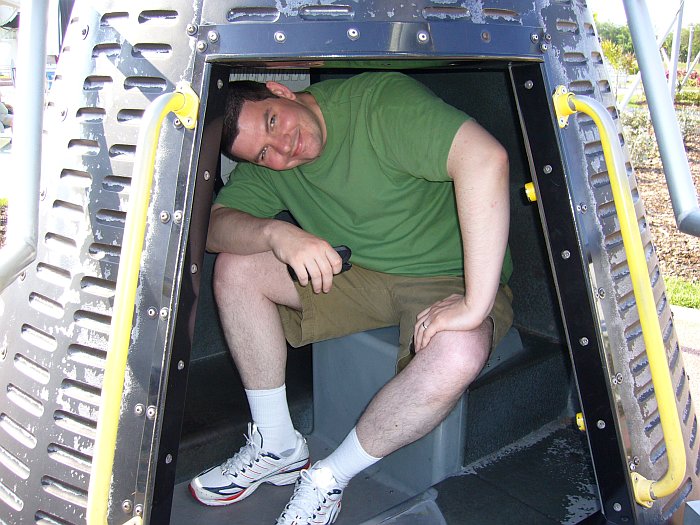 And a Saturn 1B with Eric for scale: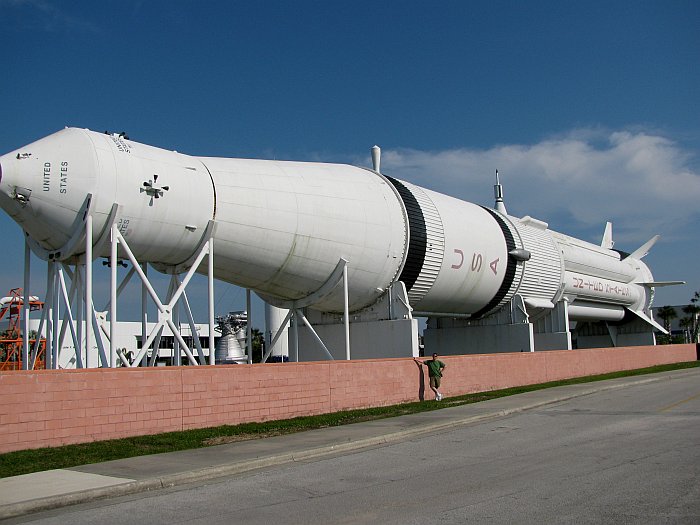 We also took in the Imax: Hubble 3D film. The required 3D glasses were ill-fitting and detracted from the experience. In general, I thought that this film would have been much better had they simply gone for high resolution rather than 3D.

Back at the Comfort Inn that evening, we needed to do laundry. Guess what? Their guest laundry was waiting for new equipment and was not available. They suggested a laundromat in downtown Titusville, but as I had no desire to ride into town and sit bored at a facility which likely didn't have internet access, I made something of a stink about this. "Don't you have some sort of reciprocal arrangement with the other hotels clustered right here?" The desk clerk then made a call to the Hampton Inn across the street, who cheerfully let us use their guest laundry facilities, and volunteered the access code for their Wifi when they noticed we also brought our netbooks.
Day 6: Saturday 24. April -- Titusville to Florida City ~267 miles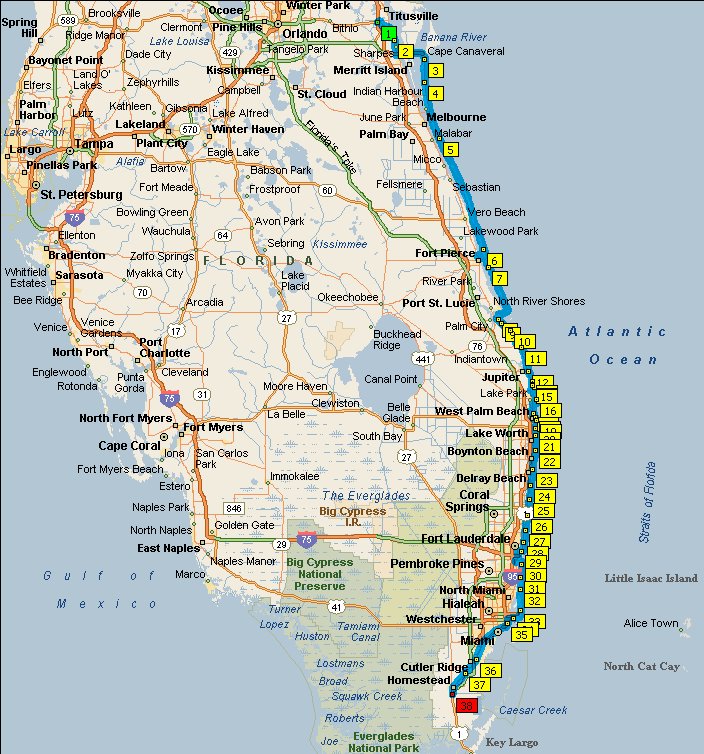 We departed Titusville in the direction of Cocoa Beach and where we continued down the coast on A1A. Again, this route was just OK; I'm glad to have seen it, but am not anxious to repeat the experience, especially near near Miami's South Beach where traffic was a nightmare. We ate lunch at a local seafood restaurant with a nice view of the Fort Pierce inlet from our table: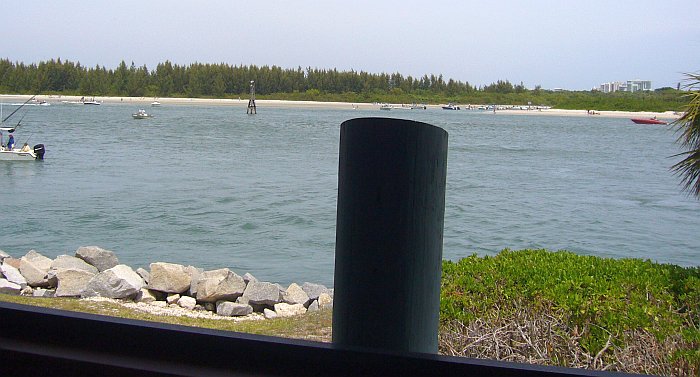 The only other picture we seem to have from that day is this shot of Eric stretching his back against one of the omnipresent palm trees at a rest stop we made in the parking area of some beach park: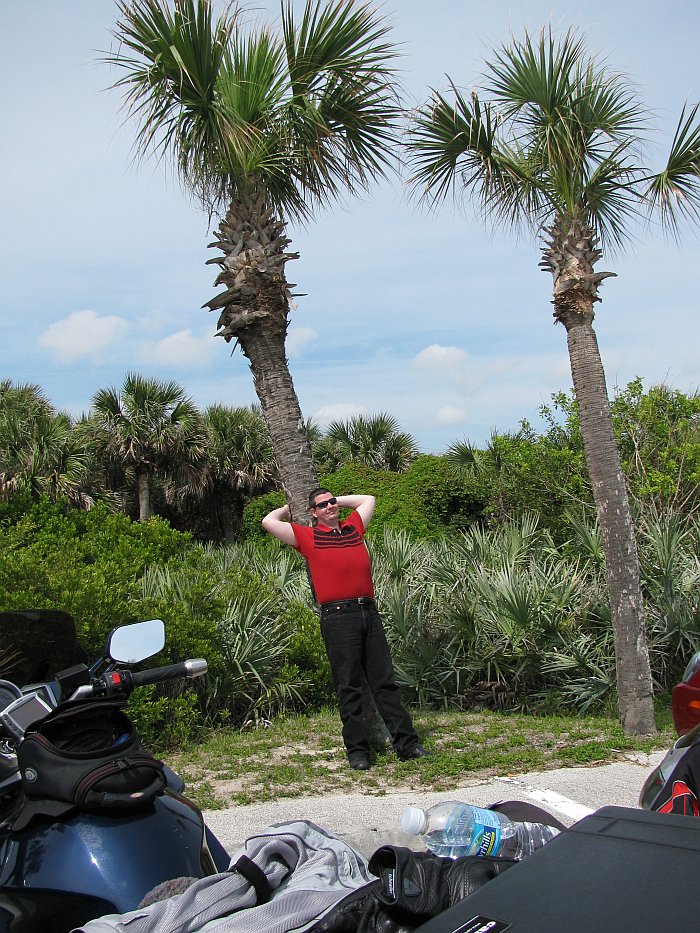 An interesting, but slow section of the trip was A1A through Jupiter Island. If I had to live on the east coast of Florida, this would be the spot I'd choose, if I could afford it. ;-) It has a very elegant feel with lush landscaping. Of course, the typical house there costs $5 million or more.

As stated above, traffic through Miami Beach was a total pain, especially towards to southern end. This made what should have been an easy day of well under 300 miles into a somewhat grueling experience. It was much better once we turned onto the mainland, and US1 through Miami down towards Florida City was not a problem, despite the lack of daylight. We ended the day at the Comfort Inn in Florida City, which is about as far south as you can go without getting to a 20-mile stretch of swamp with nothing on it at the extreme southwestern end of Florida.
Day 7: Sunday 25. April -- Florida City to Key West, ~140 miles

From Florida City, we took Card Sound Road rather than US 1, intending to explore the northern end of Key Largo, not realizing that this end of the island is a private, gated community. So we made a U-turn and headed down the middle part of Key Largo (which is almost empty) towards the rest of the Keys and Key West. We took our time and made a number of stops.

I don't remember exactly where this was, but the picture was taken by a young Italian couple, apparently on their honeymoon. Their English was not very good, but good enough to understand "You take a picture of us and we'll take a picture of you."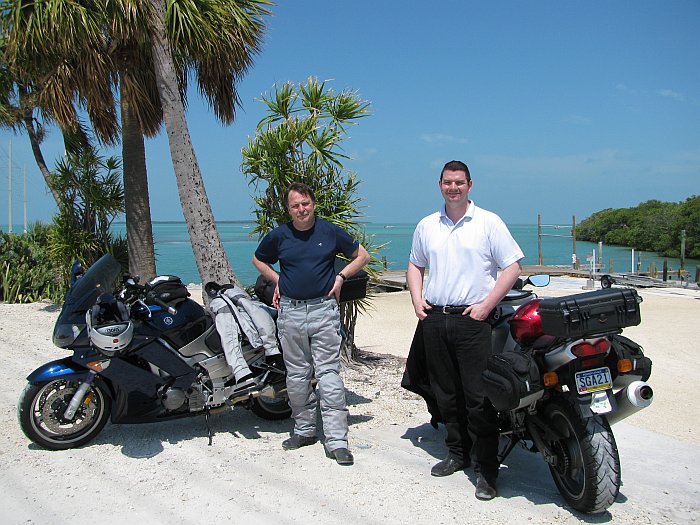 We ate lunch at a restaurant which looked like a giant tiki hut and had this view: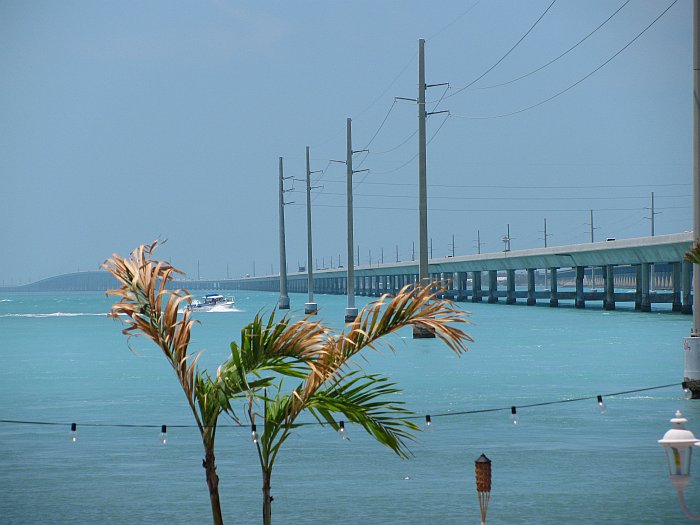 And stopped somewhere else along the way in front of yet more turquoise water: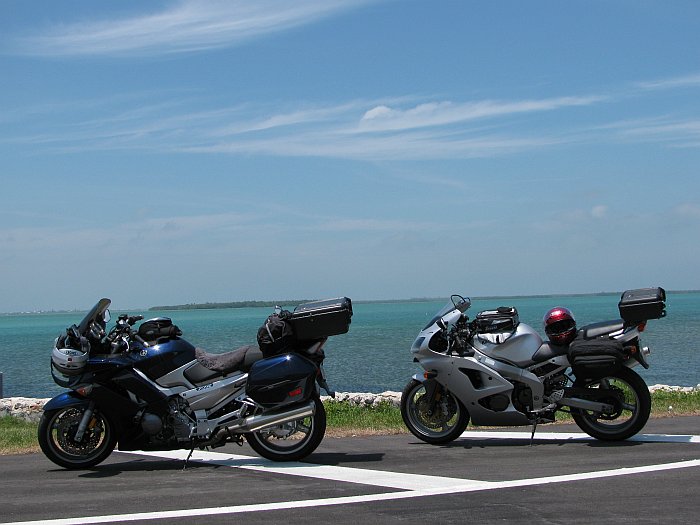 Me in my Olympia warm weather gear. I love this stuff; it flows lots of air and due to its light color, it does not absorb heat.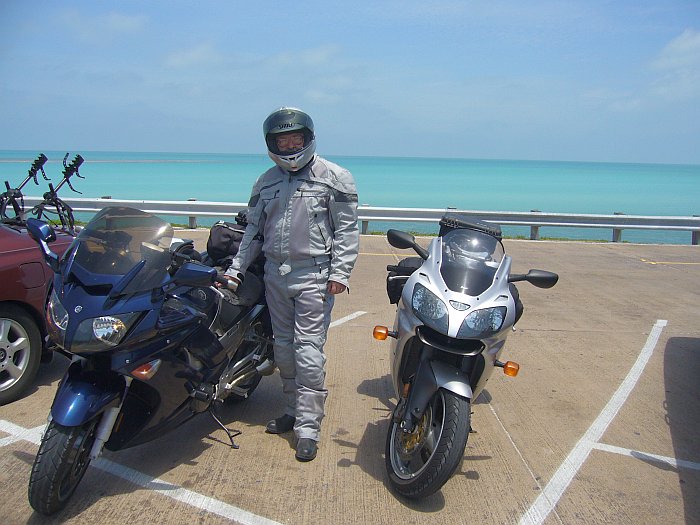 We arrived in Key West quite early, around 2 PM, and checked into the Days Inn. Yes, that's about the cheapest place to stay on Key West and it gets mixed reviews at best, but we didn't want to spend big bucks for an overnight stay. They gave us no hassle about checking in early, so we unpacked our bikes and due to the high temperatures and low speeds, went to explore the island in less than full gear (helmets, gloves, and street clothes). First, we found a Dairy Queen for milkshakes, then proceeded to the southern beaches, where we parked our bikes: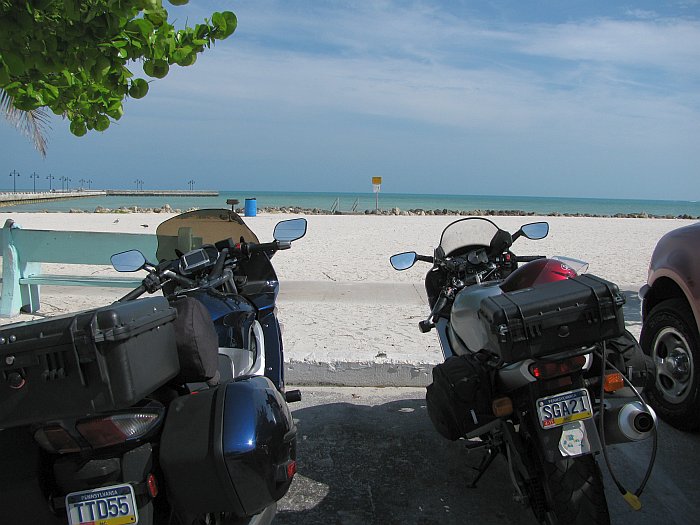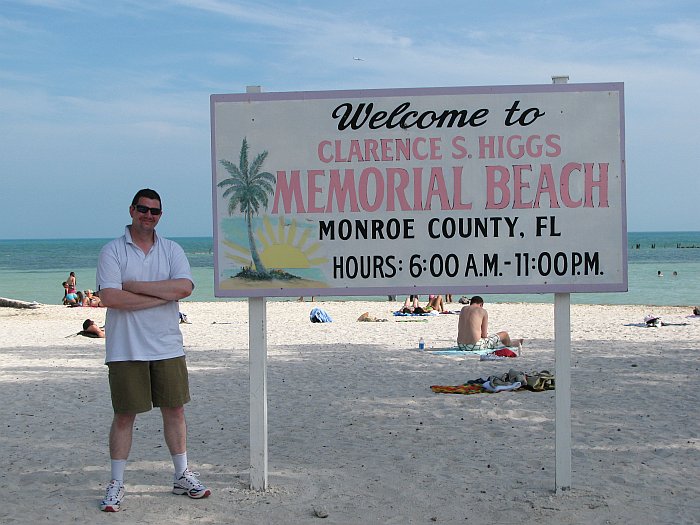 and waked out to the southernmost point in the 48 contiguous states: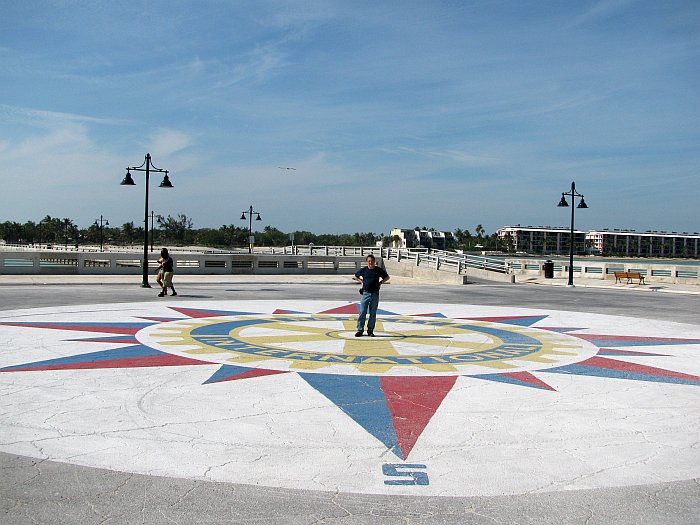 Here's a shot back at one of the nicer hotels: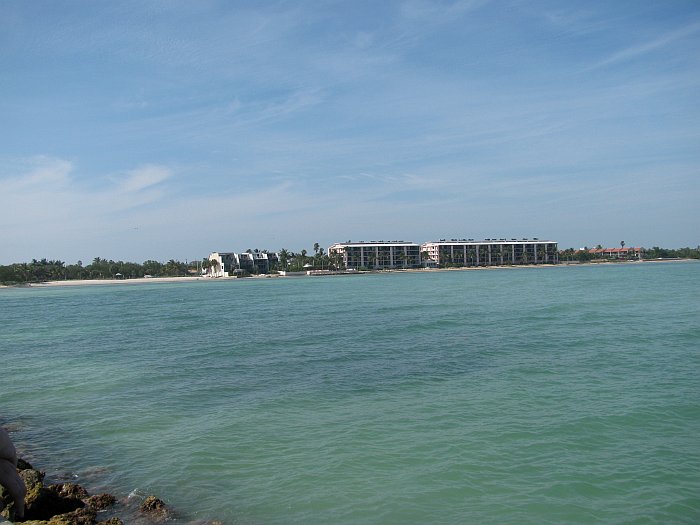 From there, we wandered west on Atlantic Blvd, where we found a nice place called Salute! On The Beach. It wasn't even close to dinner time, but we were thirsty, and they were more than accommodating with sweet tea for me and lemonaid for Eric (with free refills on both). We had a front-row table for their beach volleyball court, which I found quite entertaining: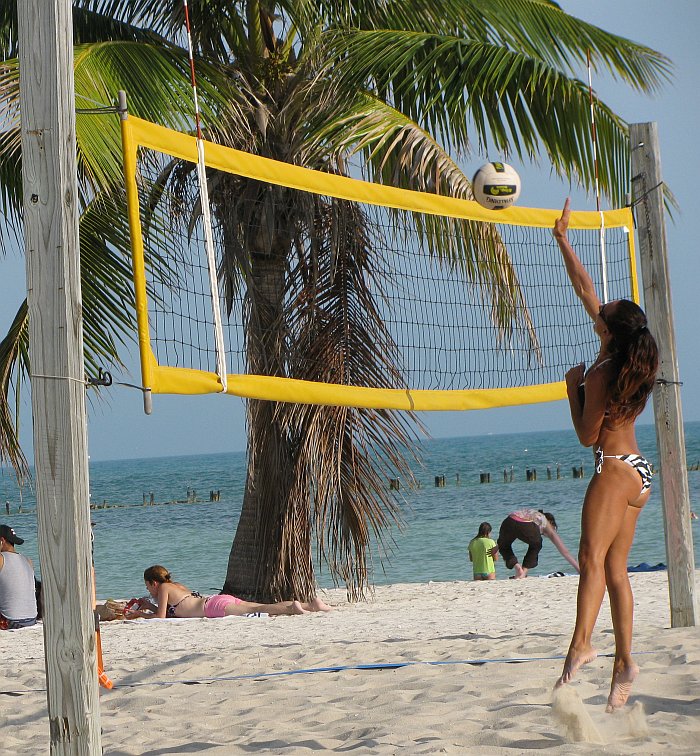 There were also a couple of biplanes which kept passing overhead; I presume they were giving rides: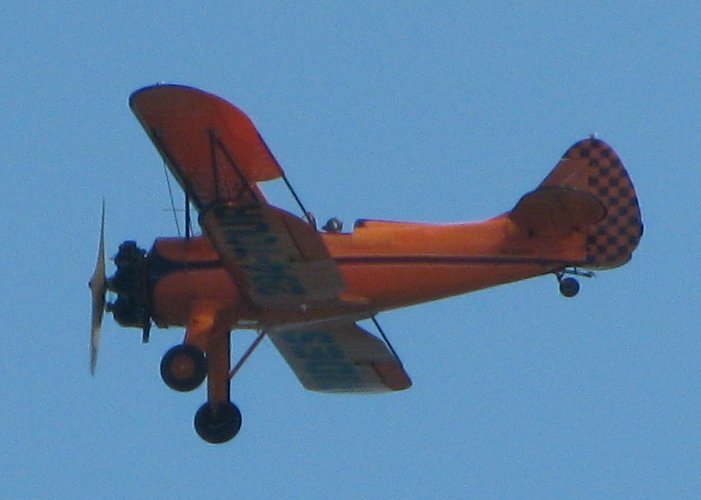 On the way back to our bikes, we spotted what may be the ultimate rat-tourer, an early 80s GL500 SilverWing with ammo cans as luggage: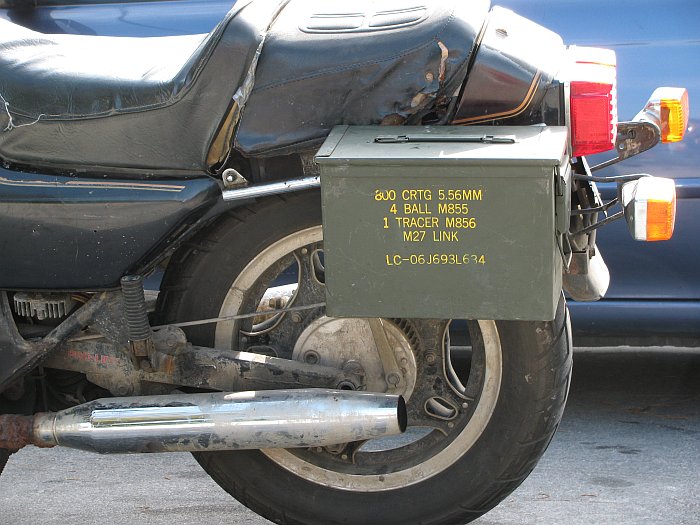 As well as 20 year old Caravan with custom paint: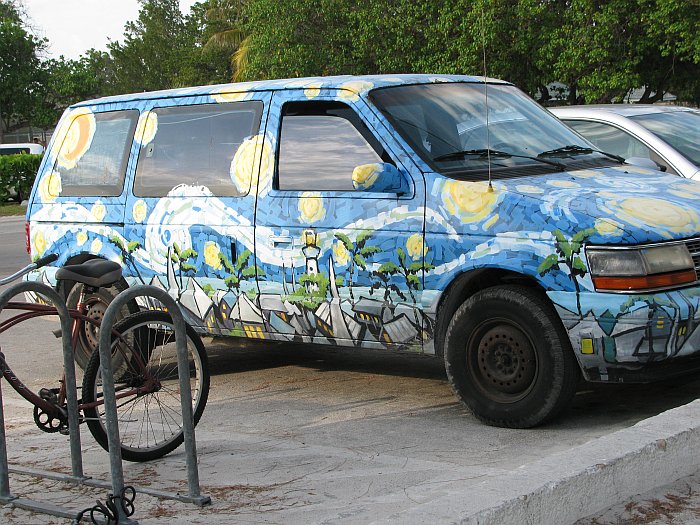 We took the short, southernmost section of A1A back to our hotel, where we looked possibilities for dinner. We settled on Hurricane Joe's which is actually on Stock Island, not Key west, but seemed the best choice within walking distance of our hotel. We were not disappointed; you can eat outside, overlooking their marina, and the service and food were both very good.
OK, so we managed to chew up 7 days getting from Pennsylvania to Key West, a trip which would be doable in 2 relatively easy days on I95. We took even longer getting back. If you're not bored to tears yet, you can continue to page 2 of this report by clicking the link below.