Ross-Tech 2010 Tour of the Southeast
Page 2
Day 8: Monday 26. April -- Key West to Florida City, ~130 miles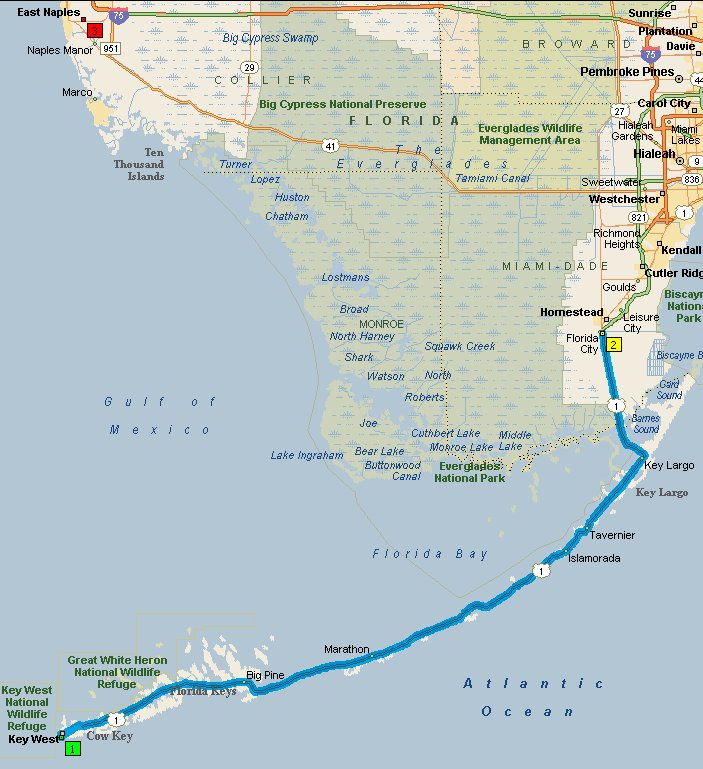 The original plan for this day was to take US 1 back to Florida City, then to head up Rte 997 and west across the Tamiami Trail (US 41) across the Everglades and end the day somewhere in the vicinity of Naples, which would have been about 250 miles, but this was not to be. We departed Key West knowing there was a strong cold front over the Everglades; radar pictures showed it as a solid line of violent thunderstorms, and it was slowly creeping south. We made it back to Key Largo, perhaps 25 miles from Florida city before we got any rain. At that point, we debated finding a place to stay in Key Largo, but hotel prices in the Keys are not exactly attractive, so put on our rain gear and pressed on, which may not have been the wisest thing to do. It was just rain and quite tolerable until we got back to the southern tip of the mainland, where we met the meat of the cold-front. Temperatures dropped 10 or 15 degrees F in less than a mile, and there was a strong wind right out of the west, in other words directly from our left, gusting to at least 40 mph, maybe more. On a wet road in with lots of traffic, in a downpour, this felt downright unsafe. Unfortunately, there was no place to stop and wait it out, not even a paved shoulder, so all we could do was continue north, hoping for the best. One of the first places to stop as we approached Florida City was the Comfort Inn we had stayed in on the way down to the Keys and we pulled in under the canopy outside of their lobby. Since stormy weather wasn't how we wanted to see the Everglades, and we knew this place wasn't bad and was reasonably priced, we checked in and called it a day. A few hours later, I had some regrets, as the brunt of the storms had passed, but it was still cloudy, and the report for the next few days was quite good, so we spent the afternoon doing laundry again, and then took a nice walk to dinner at the Farmers Market Restaurant. We were literally the only customers when we first walked in, so the service was great; the food wasn't bad either.
Day 9: Tuesday 27. April -- Florida City to Bradenton, ~260 miles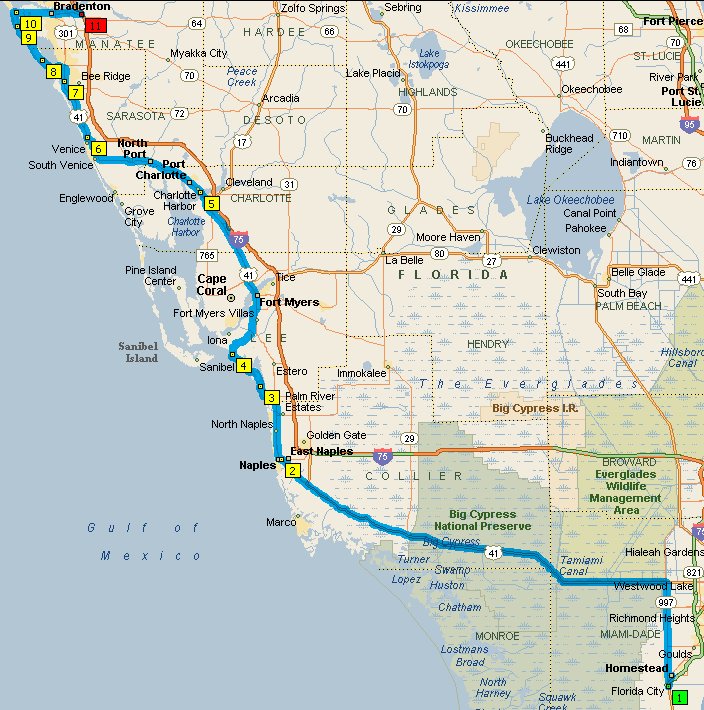 Once you get north of Florida City on Rte 997, it gets somewhat agricultural. Interestingly enough, much of the "agriculture" consists of countless ornamental plant nurseries, many specializing in palms. I guess all those palms in south Florida have to come from somewhere. We then turned west across the Everglades on US 41. The easternmost portion isn't all that interesting. You have a canal on the north side, and some green on the south side. It gets better once you get into the Big Cypresss National Preserve. There we stopped at the Big Cypress Gallery. We didn't actually go inside, what caught our attention was an alligator sunning himself on their lawn. At first, Eric didn't think he was real, he was just sitting there motionless (as alligators are apt to do) and Eric thought he might be a fake to get the tourists like us to stop. We parked on the other side of the lot from the gator and Eric went to pose with him. Personally, I would not have gotten that close and taken my eyes off him!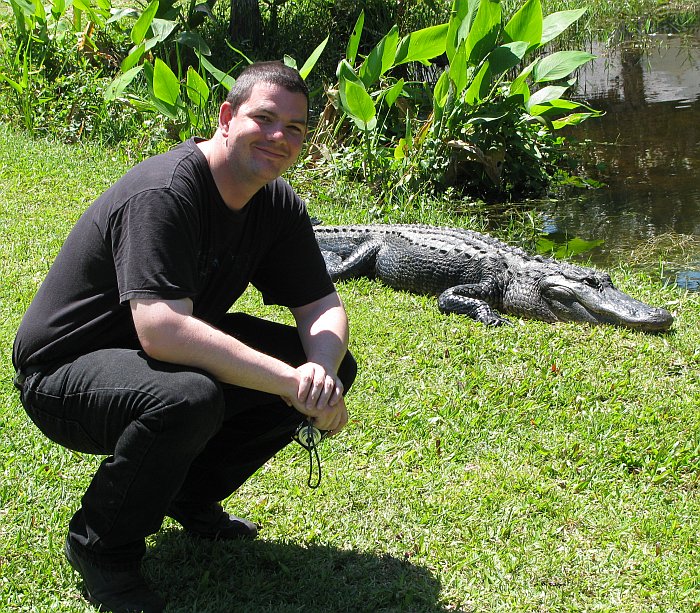 Here's a closeup of him (don't worry, it was done at full 10x zoom):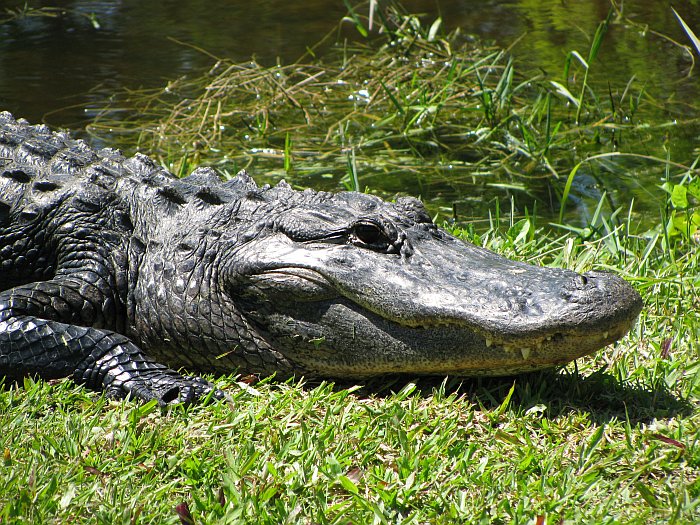 After this series of pictures, Eric decided he wanted one of the gator and his bike, but the gator decided he didn't know what to make of the bike and scurried off into the water as it approached.

Here's a picture of the swampy parts: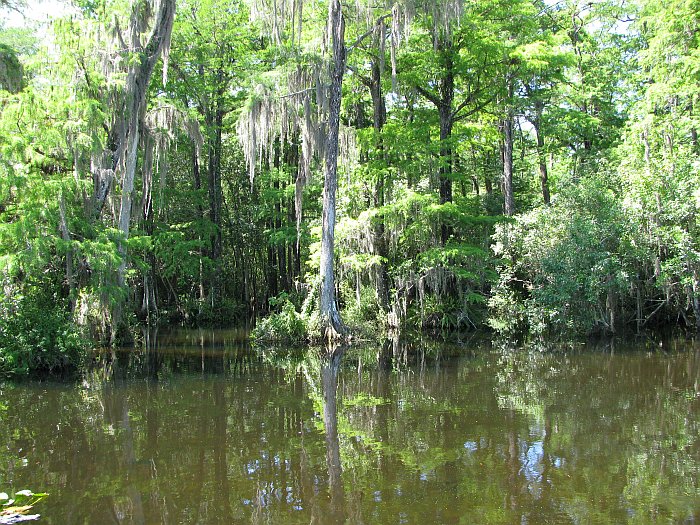 which the gators love: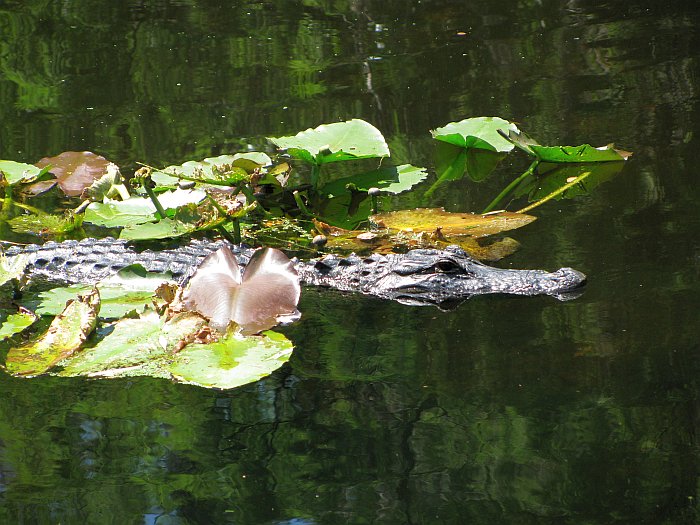 And the grassy parts, which are actually more representative of the Everglades as a whole: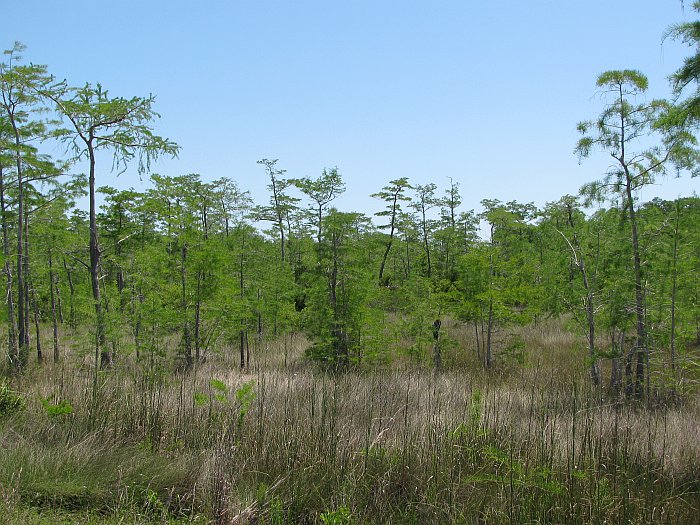 At this stop, there was a nice bird-of-prey flying around. I'm not sure exactly what kind of bird this was, but he did look impressive:
[Edit: I've been informed this is a Turkey Vulture, a carrion eater, not a bird-of prey]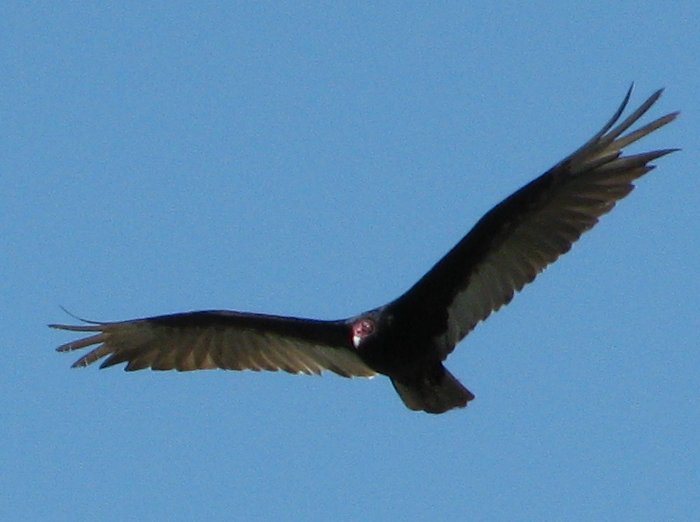 After the Everglades, we continued up US 41 in in a northerly direction to Bonita Springs where we hit Rte 865 on the barrier islands of Bonita Shores and Ft. Myers Beach: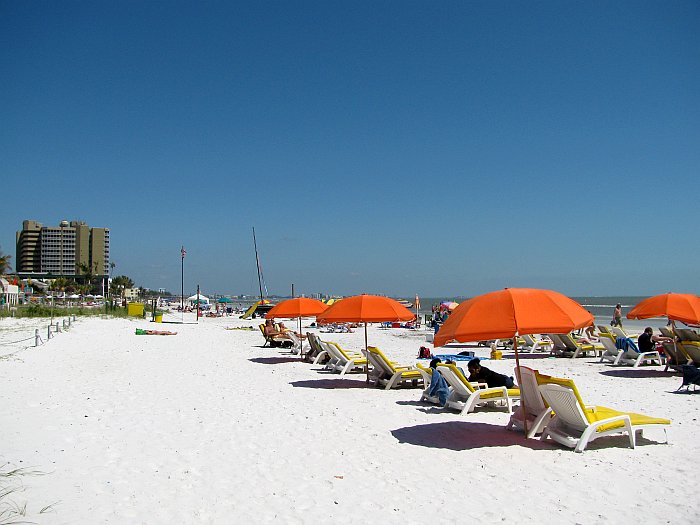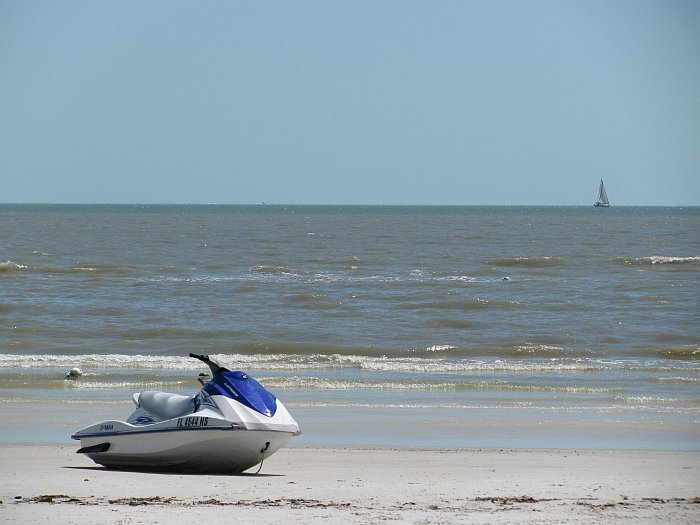 After that we We did not see much of the actual coast until we crossed the bridge onto Longboat Key near Sarasota. Somewhere around Port Charlotte, we took a comfort break at a gas station and Eric looked rather exhausted: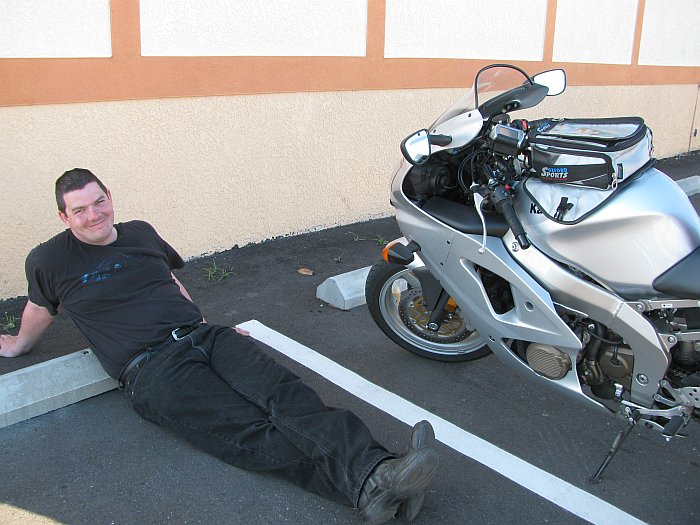 His bike was not designed for low speed riding on the "urban" roads, and his all-black gear was less than optimal at low speeds in the mid-80s temperatures. I suggested that he might buy some pants in a color other than black, but he never did.

Longboat Key was fairly nice, but it seems we didn't stop for any pictures until we turned back towards the mainland in the nice light of a late afternoon sun: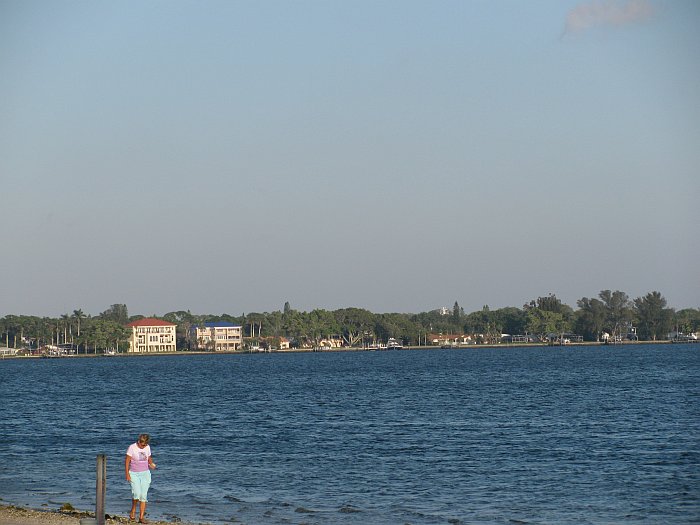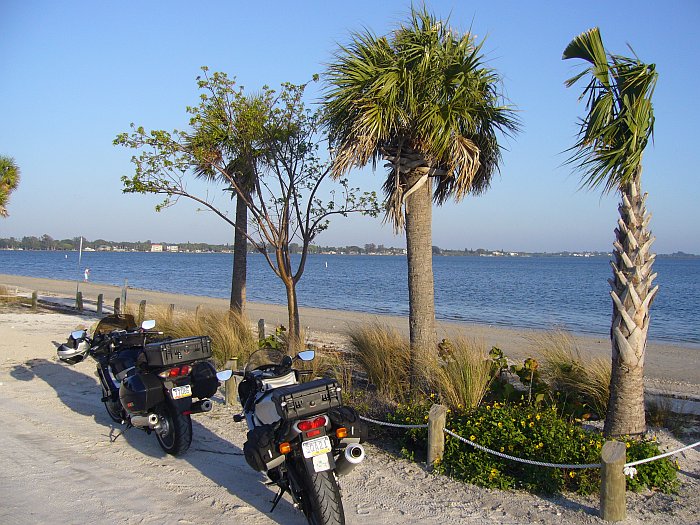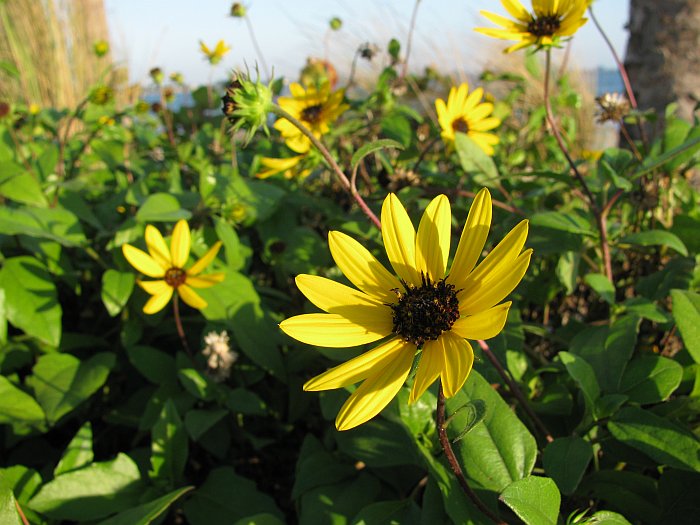 We continued a bit inland towards a cluster of inexpensive hotels to the east of Bradenton near I75. There we found an EconoLodge with "do as I say, not as I do" attitude: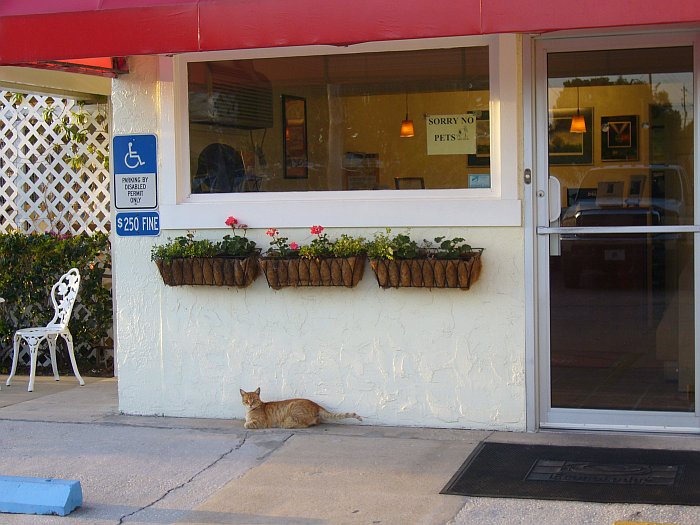 However, we ended up staying at the Comfort Inn close by.
Day 10: Wednesday 28. April -- Bradenton to Tallahassee, ~316 miles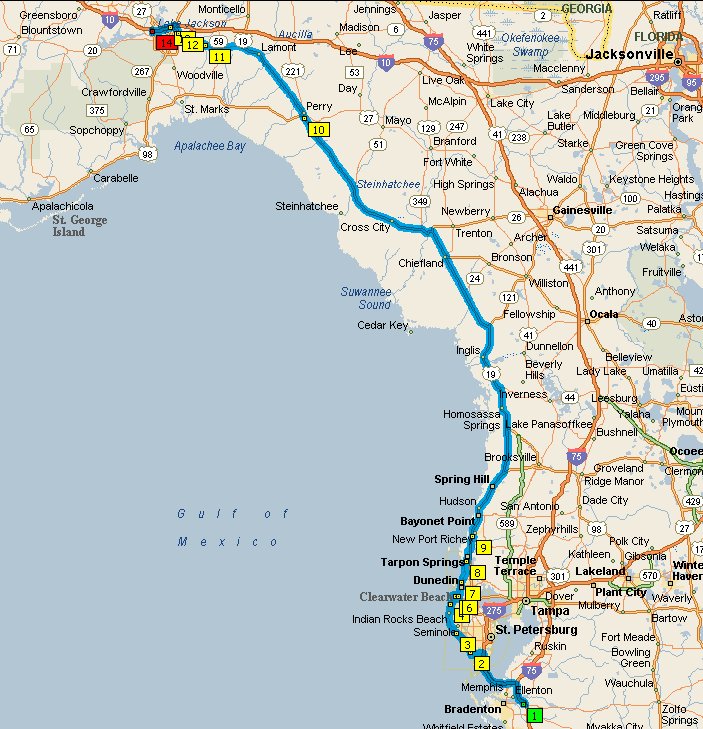 We started this morning with a short run up I75 and I275 to get to the Sunshine Skyway Bridge across the Tampa Bay. This bridge is pretty impressive. There was a rest area just before it and I was tempted to pull in, but decided against it because from the entrance, it didn't seem it would have a view of the bridge. It actually has a superb view of the bridge, but it was impossible to get there by the time we realized this. After crossing the bridge, we immediately turned west to the barrier islands on Rte 682, and continued north on Rte 699 all the way up to Clearwater Beach. Once again, Eric wasn't happy about the slow pace the road and traffic dictated. I told him he needed to trade his track-rack in for a cruiser. ;-) Somewhat inexplicably, it seems we don't have any pictures from that segment.

Once back on the mainland, we went north on Alt US 19 until it joined the main US 19, which gets away from the coast relatively quickly. From about Tarpon Springs all the way to Perry, US 19 is totally unmemorable. The southern portion of that run has a totally excessive number of Pawn Shops and Title Loan places, as well as billboards advertising various legal services and bail bonds. This is obviously not the ritzy part of Florida.

At Perry, I would have preferred to turn west onto US 98, but there's a distinct shortage of places to stay along there, and we were getting close to the end of the day, so we continued northwest on US 19 to Capps, where turns straight north, and we went west towards Tallahassee (where there are plenty of reasonably priced accommodations) on US 27 for about 30 miles. This section is fairly picturesque and and has some elevation changes, unlike the rest of the state where the highest points are various bridges. We ended up staying in a Sleep Inn on the northwest side of Tallahassee.
Day 11: Thursday 29. April -- Tallahassee to Destin, ~197 miles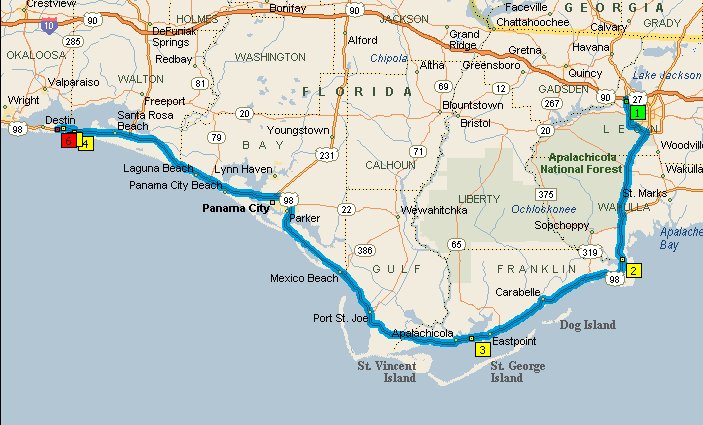 We started this day with a route that had many more waypoints on it to keep us as close to the shore as possible. Streets and Trips told me our route would be ~330 miles, which would have made for a somewhat long day, and we were planning to meet up with someone in Destin that evening, so stopping short wasn't really an option. What I didn't realize was that I had a couple of waypoints completely out of order and even the originally planned route would not have been much more than 200 miles. So we set off down US 319 to where it briefly joins US 98 and continued down US to the coast. We followed US 98 to where it re-joins US 319, which is where the day got "interesting".

At this stop sign, I waited for Eric to pull up beside me before proceeding. Only he didn't. Now I knew he was close behind me very recently, so turned my head and saw him stopped back on the shoulder, just before the fork in the road. My initial reaction was that he was thinking we should proceed up US 319, which actually would have taken us back towards Tallahassee, and was obviously wrong. So I waited a while longer, and then did a U-turn to go see what was up with him. First I pulled up beside him to ask him what was up. Engine quit, with a lean sputter, as though it had hit reserve or was out of gas, despite the fact that we had both filled up only ~50 miles earlier right next to the hotel we stayed in overnight. His bike had done this once before, in 2006, in the middle of Nowhere, South Dakota, under similar circumstances (recent fill-up). I couldn't stay in the lane of traffic next to him, so I pull forward onto the shoulder and park my bike in front of his, right about here.

The shoulder there has a fair amount of pitch, so my bike was almost completely vertical on its side-stand, but it appeared stable and I got off. Whereupon my bike promptly plopped over into the grass onto its right side. :-O

Now let me tell you, an FJR is bloody heavy when it's laying on its side. It took considerable grunting from both of us to get it upright again. I promptly moved it over into the white-striped safety zone you see in that picture. Damage: A broken off right-side mirror and some minor scuffs on the fairing and hard case which will likely buff out. The "Frame Sliders" which I put on the bike when I got it probably saved the fairing from more damage.

OK, time to figure out why Eric's bike doesn't run. He decided that the white-striped safety zone is a better place to ponder this than the shoulder he's on, so he pushes his (lightweight) bike over there as well. He figured one possibility is a tank venting issue. Open the tank lid. Try starting. Nope. But it sort of ran for a bit when he put it on full "choke". It's a carbureted engine, not fuel injected. What seemed to fix it in South Dakota was some wait time and a vigorous shaking, so we try that; but no joy. I then recalled that he had made a comment in South Dakota that he hadn't heard the fuel pump run when his bike wouldn't start. A fuel pump on a carbureted engine? Yup; the tank outlet is lower than the carbs' fuel inlet, so it needs a pump, at least when the tank isn't completely full. Eric, there's some combination of stuff that always forces the fuel pump to run for short time, right? He does that dance with the clutch and ignition, but it does not make the fuel pump produce any sound. So we break out the tools. Yes, thankfully we had a pretty complete set of tools and were able to take off his fuel tank and gain access to the pump. Disconnecting the electrical plug from it revealed 12V coming from the bike, but an open circuit on the fuel pump side, so we'd definitely identified the problem, but that wasn't exactly a huge help where we were. They don't call that part of Florida "The Forgotten Coast" for nothing. ;-)

Looking at the fuel lines, it seemed eminently feasible to bypass the pump and let fuel from an almost full tank gravity feed to the carbs. We tried that, but the bike absolutely would not start. So we pull the tank again and look at the fuel pump more carefully: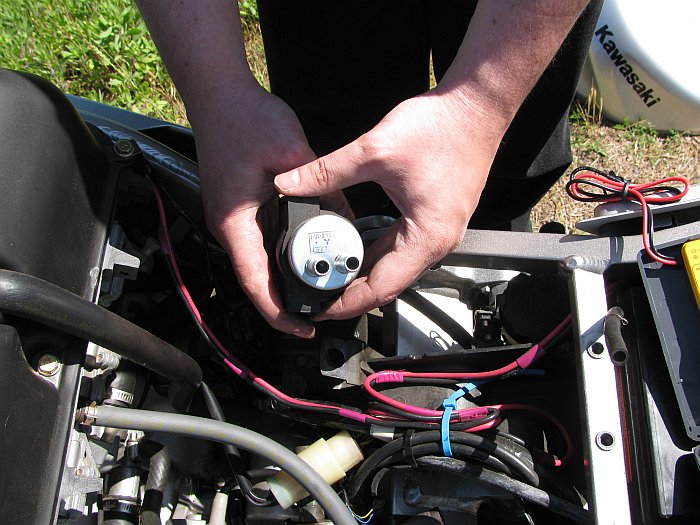 The other end of it that you can't see here has a plastic cover with a varnished screw, indicating you're not supposed to take it apart. I asked "What have we go to lose by taking it apart?" Eric replied "Nothing, I guess." So we did. Inside, we find a set of contacts that look a whole lot like an old-school set of ignition breaker points. These apparently open and close based on fuel pressure, and look quite burnt. So what do you do when you have burnt ignition breaker points? You file them down some. The only file we had was part of a Leatherman multi-tool, and it was a bit thicker and coarser than we would have liked, but we made it work, and then checked the resistance at the pump's connector again: 2.4 ohms, YES! Put it all back together, and it started right up!

By this time, we had spent over an hour working on it. During that time a at least a couple of dozen cars went by, as well as a similar number of Harley-Davidsons. Not one of them stopped to see if we could use a hand. Three people did stop. The first was in a small Winnebago motorhome. He asked if we needed any tools. We told him, nope, we're good on tools and he left. The second was a guy on a BMW RT. He actually hung out with us until we got Eric's bike running again. I'm not sure why, but I didn't object to the moral support. The third was a guy in a pickup from the Florida State University Costal and Marine Lab which was perhaps a 1/4 mile back down the way we had come. I had seen his truck go by in one direction soon after we our predicament started, and he stopped to try to help when he noticed we were still there a while later when he came back. He told us he had many tools back at the lab and if we needed anything, to come over and let him know. So we know who the good guys are, and the loud-pipe Harley crowd ain't.

With Eric's bike running again, we decide to press on in the direction of Panama City where we figured there would be some motorcycle dealerships. FWIW, the section of US 98 right where we were stuck is was one of the nicest parts of coastal Florida; it's got pine trees right up to the beach in many places and is totally non-commercial.

In Panama City, we stopped at Ron's Kawasaki, hoping they might have a fuel pump in stock. They were extremely friendly and helpful, but didn't have the fuel pump. Since it was already mid-afternoon and past the deadline for getting it shipped from the warehouse that day, the soonest they could get it would be Saturday, and that only with expensive overnight, Saturday-delivery shipping. We didn't really want to spend the next two days in Panama City, and Eric's bike had run fine for almost 90 miles with the "repaired" fuel pump, so we decided to continue on to Destin, where there was supposed to be another Kawasaki dealer. What Ron's did have was a very generic mirror which bolted onto to the FJR reasonably well and actually gave me a better view to the rear than the stock mirror. Yes, it's ugly, but it worked and eliminated any question of legality regarding the missing mirror. Ron's also answered the question why the area was positively swarming with loud-pipe HD-pirate types; it was the first day of the Thunder Beach Spring Rally. Needless to say, our somewhat sporty bikes with quiet, stock exhaust systems didn't fit in at all.

So despite these delays, we arrived in Destin several hours earlier than I had expected, due of course to my mis-calculation of the day's mileage. When we got there, we stayed at the Comfort Inn. This is probably the cheapest hotel in Destin, but is actually quite nice, and is right across the street from Henderson Beach State Park. We had dinner that evening with Karl Denninger who writes the Market Ticker and runs the related forum, at the excellent Sushi Siam restaurant in the Destin Commons.

Because we were rather preoccupied with the fuel pump thing and due to Karl's schedule that evening, we did not take any other pictures that day, except the following one at a gas stop. This kind of thing is relatively common in Florida; you take an older American car and put the biggest, ugliest, chrome rims on it that you possibly can. It doesn't matter what the rest of the car looks like, but you gotta have the rims: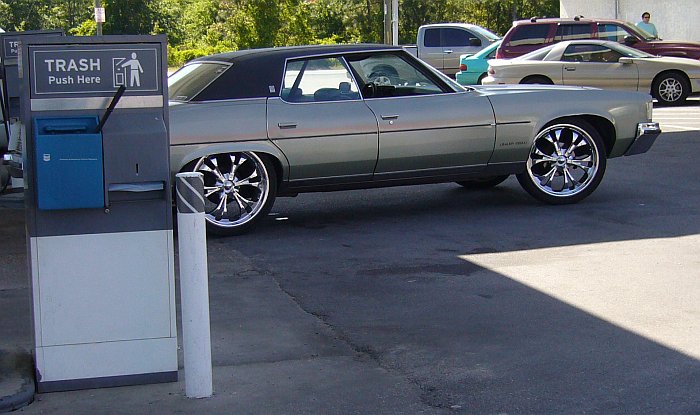 Day 12: Friday 30. April -- Destin FL to Lincoln AL, ~ 305 miles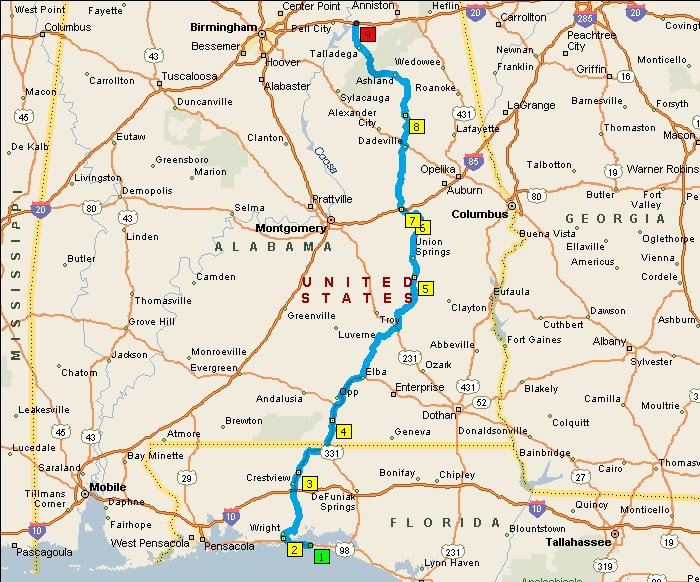 We had originally planned to go straight north from Destin towards Huntsville, where we were planning to meet up with another friend, but the Kawasaki dealer that we were told was was in Destin was actually a bit further west in Fort Walton Beach, so we decided to head that way first, in the vain hope that he might have a fuel pump for Eric's bike. Of course, he did not. It being relatively early on Friday morning, we considered staying in the area an extra day if he could get it shipped overnight for Saturday morning delivery. He thought that was possible, but wanted an additional $143 for shipping to make that happen. I know what it costs to ship something overnight for Saturday delivery; it's less than half that, and Eric wasn't willing to spend that, so off to the north we went.

The Florida Panhandle is kind of pretty once you get above I10. Here we are entering Alabama: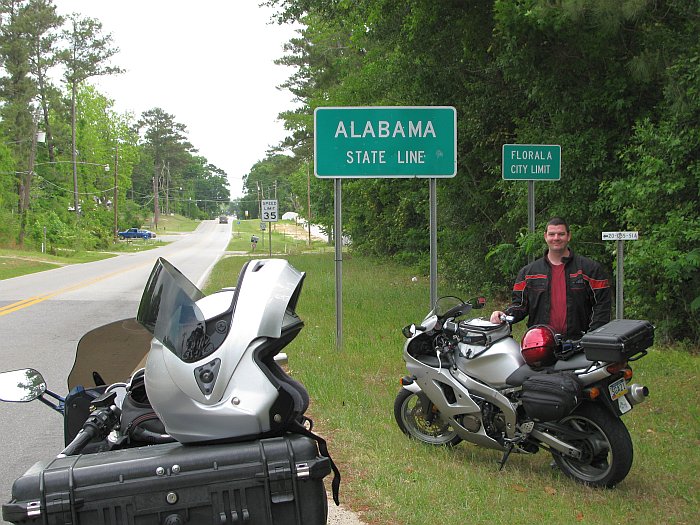 As we continued north in Alabama, we actually got some curves and elevation changes. These were rather welcome after spending a week on Florida's straight, flat roads. This section of US 29 is pretty nice riding and was completely devoid of traffic.

We crossed on of the fingers of Lake Martin on AL Rte 49: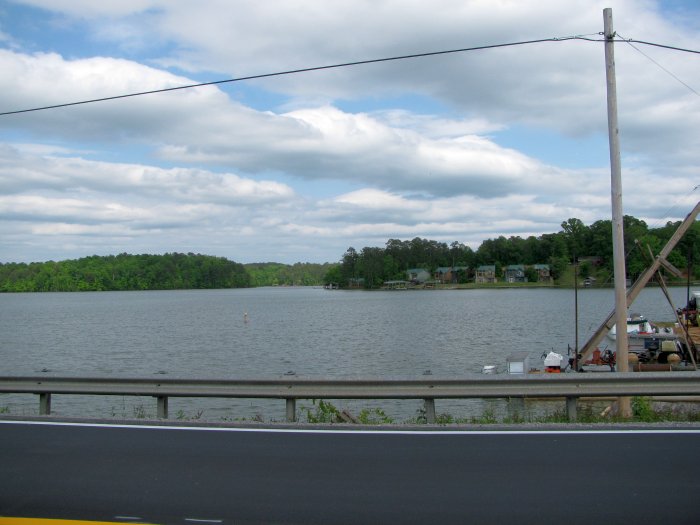 In the afternoon, Eric set his Garmin to finding us a Dairy Queen along our route for milkshakes. It took us here: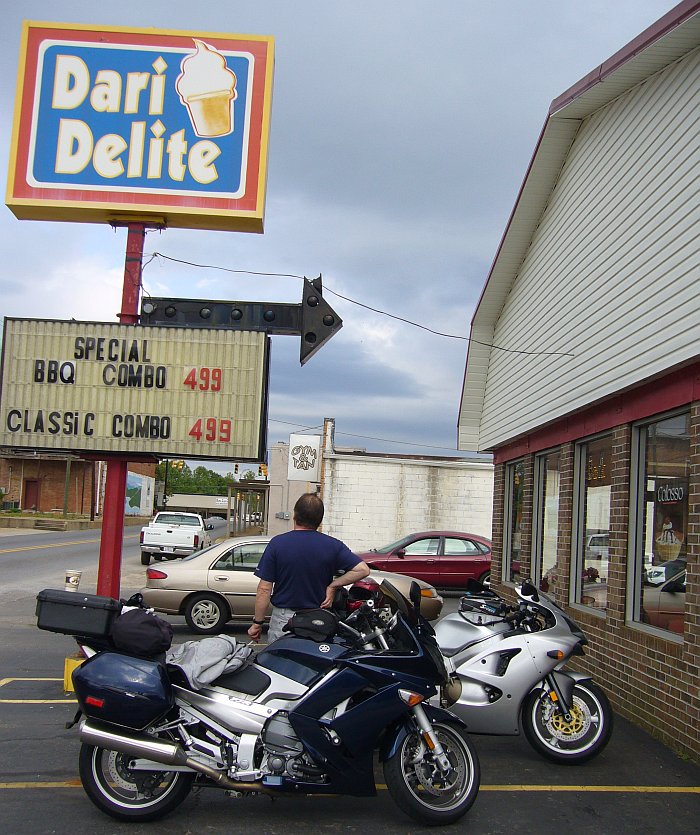 I guess it might have been a Dairy Queen once upon a time. No matter; we got our milk shakes and they even made a pot of coffee just for me. Within a few hundred feet, there were two different gas stations offering Ethanol-free fuel. Sadly, our tanks were mostly full.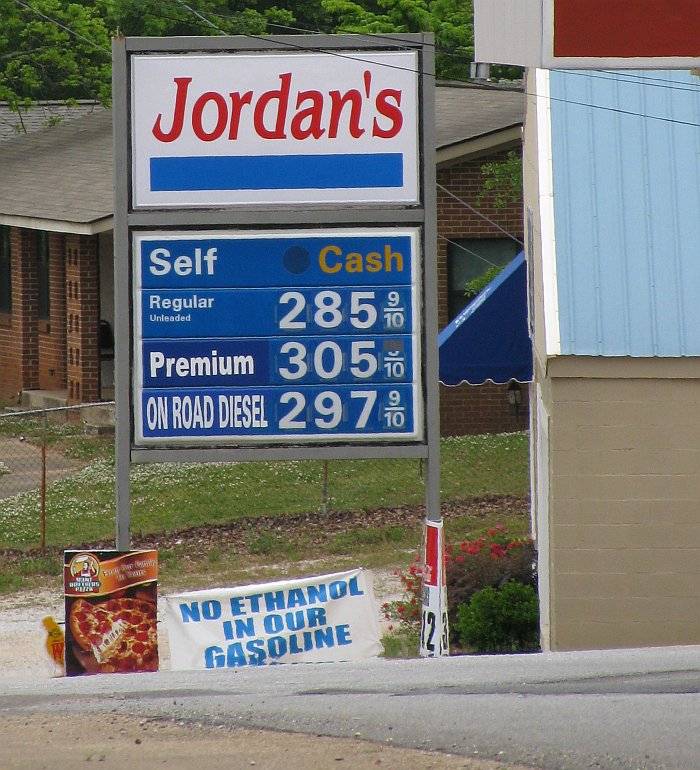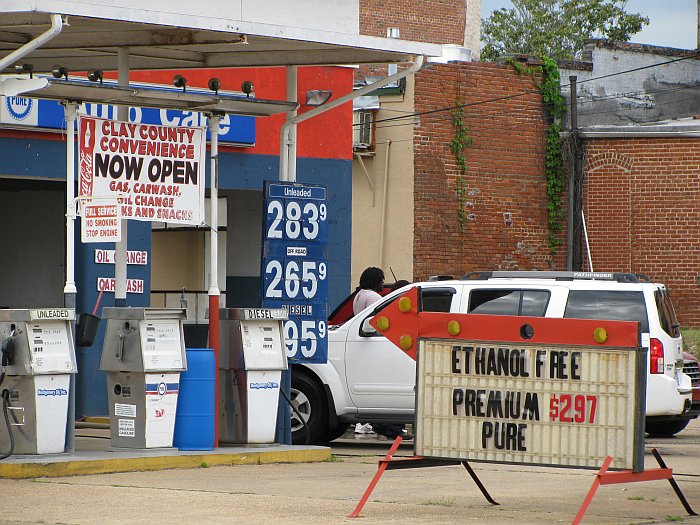 We had been watching a huge line of storms all day using the Accuweather app on my iPhone. These were the storms which caused the massive flooding in western Tennessee. By the time we got to Lincoln AL at I20 a bit north of Talladega, it became obvious that we would not be able to make it to Huntsville by dark and the storms looked like they would come east, so we decided to call it a day there. We settled into a Comfort Inn, and had dinner in a Mexican restaurant within walking distance.
Day 13: Saturday 1. May -- Lincoln to Huntsville ~95 miles




As we woke up this morning, the line of storms we were watching had still not moved much. The edge of the line was just north of Huntsville and figured Huntsville would get drenched when they finally did move. Still, we decided to go in that direction anyway and likely spend the rest of the day there waiting out the weather. We got there by lunchtime without getting wet. We had lunch with our friend, then spent the afternoon at her house, setting up a wireless network for her, then went to dinner on the other side of town at the Ol Heidelberg German restaurant, which was decent, but not outstanding. The area around Lake Gunther was nice, but we neglected to take any pictures that day.

We stayed overnight in a former EconoLodge, now a VIP Inn, on the southwest outskirts of Huntsville. This was the worst place we stayed the during the whole trip; a dump. It never did rain while we were in Huntsville, it just looked like it was going to the entire time.

Day 14: Sunday 2. May -- Huntsville AL to Knoxville TN, ~300 miles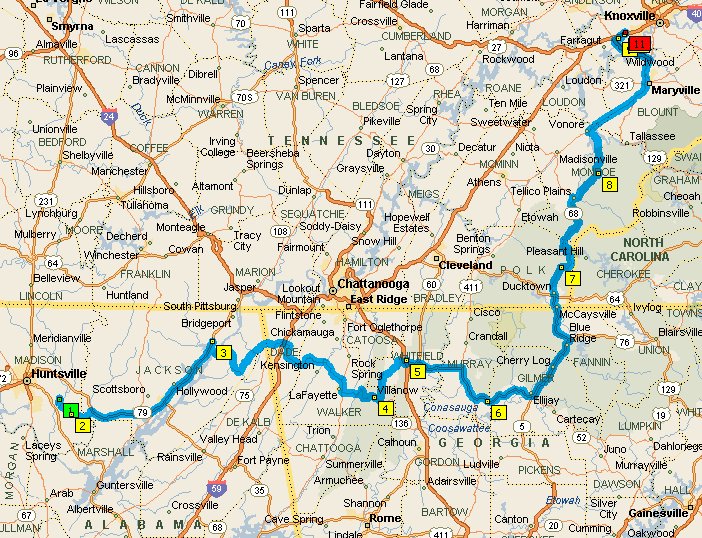 The weather that morning still looked dreary, and the line of storms had still not moved, remaining to the northwest, so we decided to press on in the direction of Knoxville. We wanted to have lunch with another friend who had just moved to Dalton, GA, so off we went. The first portion of the this day mostly on US 72 was a boring drone; this is a divided (but not limited access) highway that's pretty straight and flat. Our Garmins thought we should continue up to I24 despite the number 4 waypoint you see on the map above. Needless to say, we did not like that idea very well, so we ended up back-tracking about a mile and taking the route which Streets and Trips plotted above. This section was actually a pretty nice ride through the mountains of rural northeastern Alabama and northwestern Georia. Traffic was minimal, but the few cars that were on those roads went way too slow in the "fun" sections.

After lunch with our friend in Dalton, we kept going east to get to some some northbound roads which looked like they might be fun. We had planned this all along, but it had the added benefit of keeping us away from the line of storms which was stalled to our northwest. The run up GA Rte 5, and TN Rtes 68 and 360 was excellent. Here we are at a roadside rest area which I think was on TN Rte 68: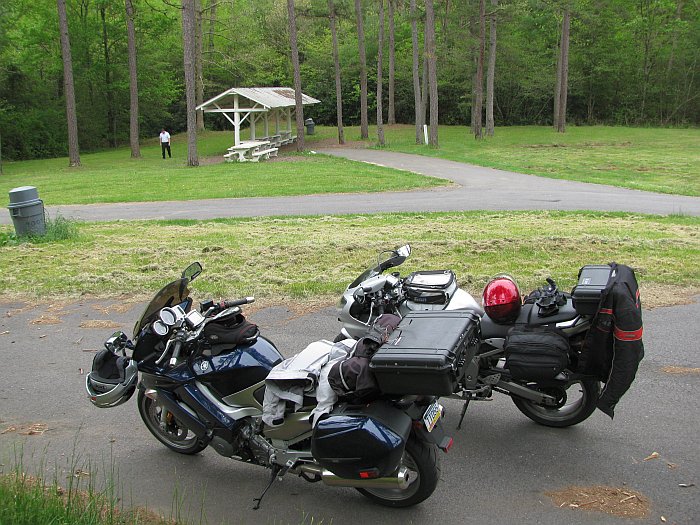 After that we had a boring section of US 411 to a short hop on I140 to our destination on the southwestern outskirts of Knoxville. It finally started raining a bit when we were just a few miles from our hotel, but it wasn't enough to make it worthwhile to put on the rain gear. It started raining in earnest a few minutes after we got checked into the Sleep Inn. Our local friends then picked us up in their car and we went out to dinner, and it rained all night.
We had now been on the road for two full weeks, which was my original estimate for the whole trip. I suppose it's a good thing I signed out of work for 3 weeks! :-) But the best was yet to come, so if you're still not bored, you can continue to the third page of this story by clicking the following link: